Yesterday I got the urge to finally finish a project I had percolating in my brain. I pulled things from all around the house and finished up a collage wall. Sometime last year (while on my blogging break), Sweet Hubby and I did a faux board and batten wall in our living room. I love how it looks, but I struggled with what to do in the space above it. Until this week. :)
Everything I used was already in my house, I just gathered up several things that I thought might be interesting together, sketched out a basic composition and started hanging! (That darn ceiling fan blade...I couldn't get a shot without it! Haha!)

On the left side of the collage wall, I added a clock I made years ago from an old plate, a corrugated tin letter C (for our last name) that I purchased at a craft show last week and a carved wooden trivet.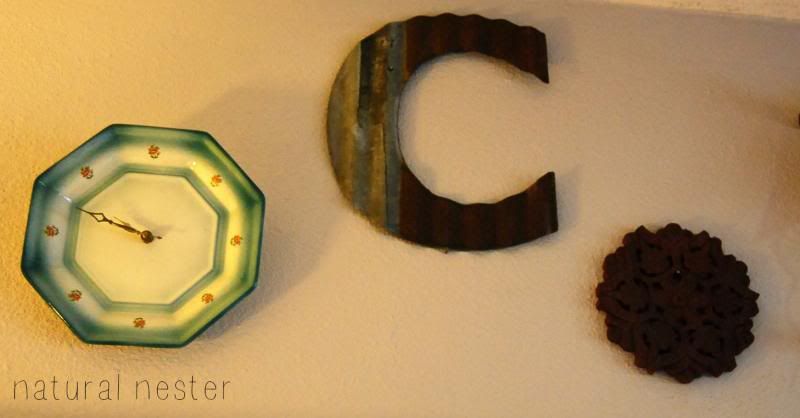 The old ladder in the middle had been leaning against our shed outside for over a year. The paint is chippy and it was starting to warp. I thought, "what the heck?" so I hung it on its side and added my "Give Thanks" banner. I had to remove the blank end pennants to make it fit, but I love it! (
Order yours here!
)

The right side of the composition features a ceramic trivet, a metal star (painted navy...sorry, our lighting is crazy right now!) and one of my
thrift store frames
(freshly painted and glazed). The little plate in the center now features a vinyl grey turkey, chosen by Miss A...I probably would have chosen a leaf or something, but it's growing on me. :)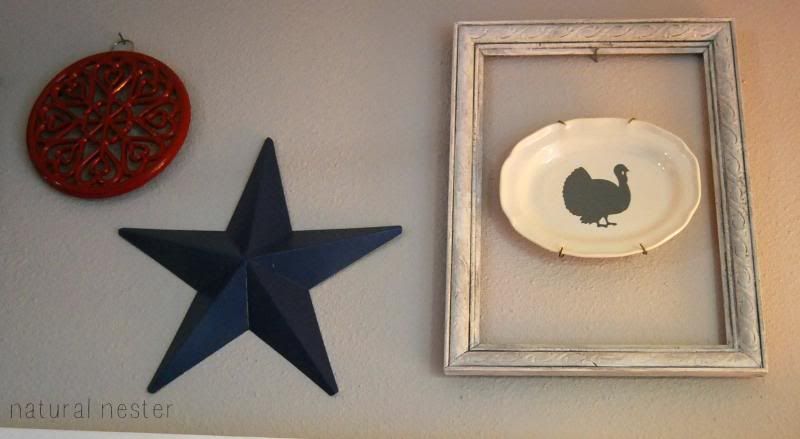 And the full wall...sick kiddos, so the TV is on. :) And do you see our newest family member, snoozing on top of the chair in the corner? His name is Bo. I'll introduce you to him next week, maybe.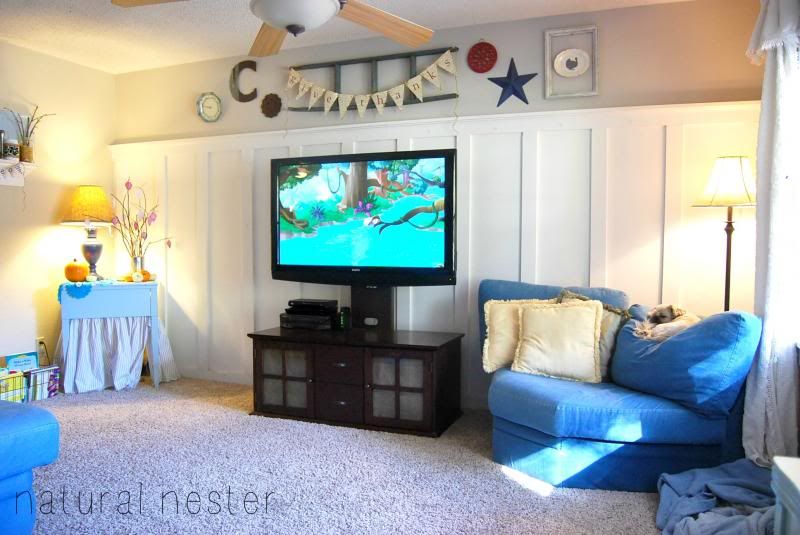 Happy nesting!