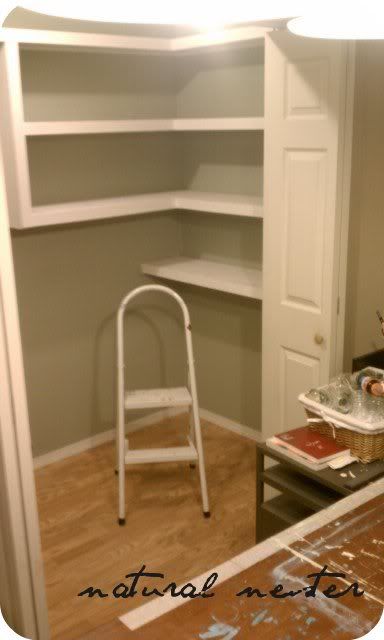 BEFORE: What a snoozefest!

I've been working really hard on organizing my craft closet. I'm choosing to withhold the worst of the before photos because I'm just mean like that, but it was a disaster area! This pic is from after I emptied everything out...sage-y green walls, primer white shelves. In a word, yawn. A few coats of buttery yellow and the closet perked right up...she wanted to be pretty all along, just needed some help! The shelves got a coat of blue (leftover from painting
our bathroom
) mainly because that's what I had on hand.
It still looks really cluttered, but you wouldn't believe what an improvement this is!! I sold at least 5 plastic sacks of fabric scraps at our recent yard sale and got rid of at least 3 boxes of magazines!
Picnic baskets store things I wanted to keep (but don't need constant access to). They each have a label so I know at a glance what's in them.

Plastic turquoise bins were purchased from Dollar Tree. Great storage pieces and super inexpensive!

The white magnetic boards on the back wall above the table are actually metal yard signs, also from Dollar Tree...they rang up for just 25 cents each! Score!! (I went back and bought the remaining 12 to use for other projects!)

The table, chair and hutch will be painted, as soon as the weather is dependable enough to haul them out on the back deck. (Yesterday, the high was in the 50s...unheard of for Oklahoma!)

The turquoise shelf on the wall next to the hutch holds baby food jars filled with vintage buttons, glitter, safety pins, etc. The pink metal buckets on top (from Target $1 section) hold paint brushes, pens, markers, Exacto knives, etc.

Most of my fabric is stored in plastic drawers under my table.
I still have
a lot
of organizing and sorting to do in here, but I'm so proud of how it's functioning now, that I just couldn't wait to share!