I shared awhile back about some ideas I had for our outdoor play space. You can see the inspiration I had gathered by reading
this post
. I wanted to stop in and share the progress we've made so far this spring.
Michael (Sweet Hubby) started by tilling up the play area and moving the play house over to the newly leveled spot. He added the stepping stones from our fire pit area and hung the bird feeder and wind chime from the tree. Our neighbor made the wind chime, so it's a special addition to the area.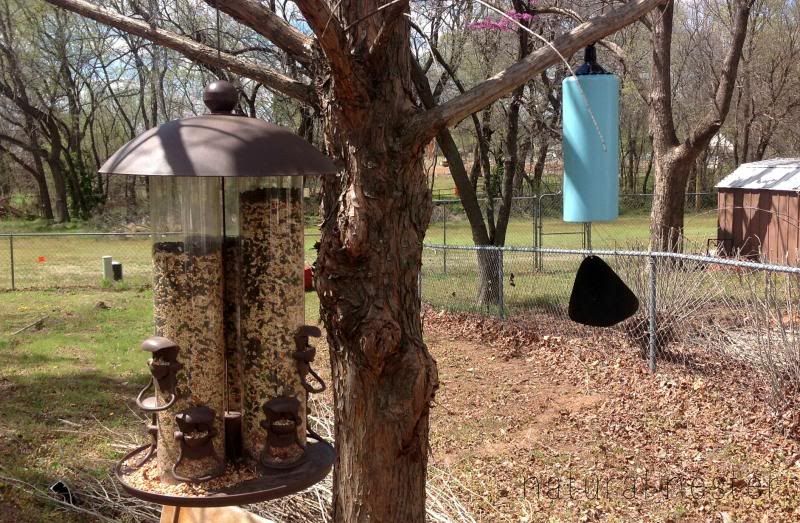 I was able to get some old tires from my Dad and we let Miss A and Gigi choose spray paint colors. The colors they chose were from Krylon. I have never liked Krylon spray paint, but this time we bought the ColorMaster Cover Max and it worked great! The coverage was fantastic and I still have half a can of each color to use on other details through the play area.
In our area, we have a farm and garden store called Atwoods. I always like shopping there for plants because they have great sales in the spring. This weekend, 3-pack annuals were only 69c each!! So, we let the girls go crazy and choose as many as they wanted. I also picked up some for our front flower bed and Miss A even picked out a bunch of tomato plants.
Here's what you CAN'T see. We planted giant sunflower seeds all around the perimeter (except the front/right side where the girls enter the play area.) Hopefully they'll provide some privacy and shade as they grow over the summer. Miss A planted 3 tomato plants on the left side of their play house (easy snacking on cherry tomatoes while they play!) And behind the play house, we planted more sunflowers and a couple packets of "cutting garden" flowers. Everything we planted is supposed to attract hummingbirds and butterflies!
We still have a few more projects in mind for this, but so far our girls love it and want to spend every waking moment here! I'd call that a success!
I'm sharing the Children's Garden over at: