Our front door opens directly into our dining room and we don't have a designated entryway or a coat closet for shoes, jackets, diaper bags, etc. I've been brainstorming for months, trying to figure out a solution and finally, it struck me! There's a large closet next to our kitchen that I've used as a pantry since we moved in. But when we remodeled the kitchen, we added storage and I didn't need a pantry anymore.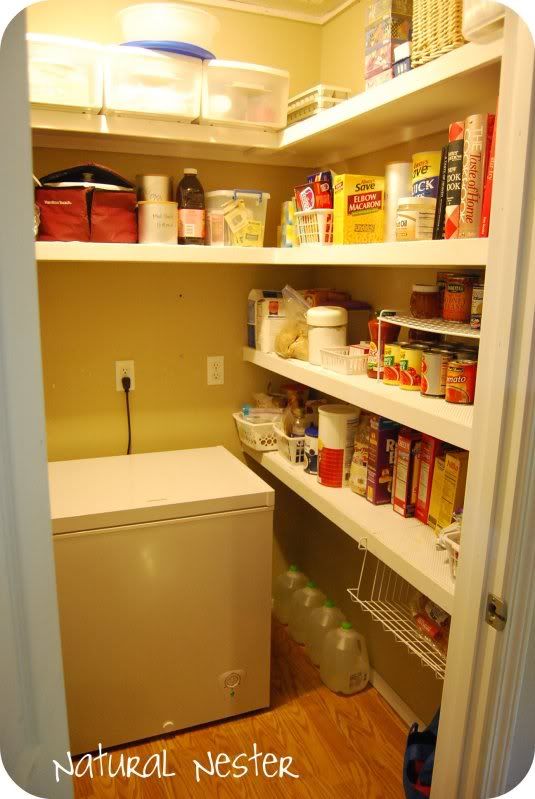 Pantry: Before
The closet measures just over 20 square feet. I wanted it to fulfill a few different purposes, as beautifully and efficiently as possible:
Storage for coats/jackets, gloves, hats, bags, etc. for our family, as well as guests
Shoe storage (we don't wear shoes in the house, but with no permanent storage, they ended up strewn in front of the door!)
Space for recycling bins and reusable shopping bags
And of course, it had to be inexpensive...we're still working on the kitchen in the midst of this little makeover. This was our plan:
Sweet Hubby painted the walls a gorgeous shade of greyish-blue that we had in our paint supply cabinet. This is the tag on the lid, if you're interested in using the color.
We installed the leftover vinyl plank from our kitchen makeover. We finished with just 4 planks to spare! Using the wood from the shelves we removed, we built the bench on the left wall. We also added two 1x4 boards (painted white) and hooks for hanging coats and bags.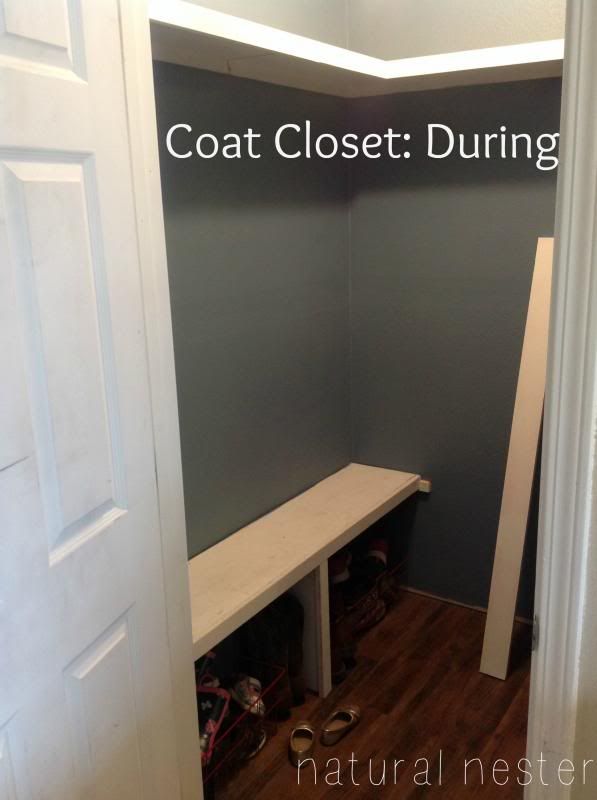 And here it is, filled up with stuff again! Our 2-year old wanted to model the size of the bench for you. :) On an unrelated note, I have no idea how to live in Oklahoma and NOT have at least 3 jackets or coats per person. Crazy weather!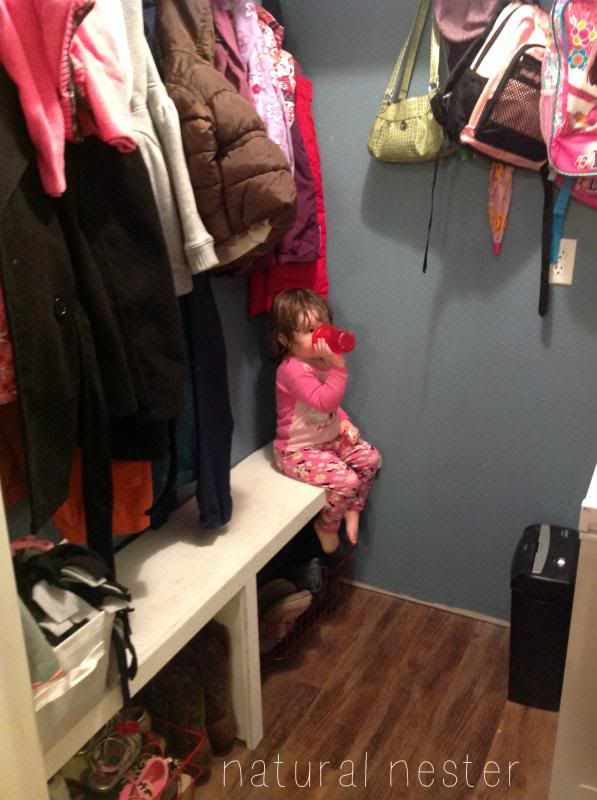 The smaller hook board provides easy access to the diaper bag and keeps my purse out of reach of little hands. ;) The freezer was moved under the shelves on the right side. Our shredder sits on the floor in front of it because I use it to shred paper for our compost every week.
I have had these wire baskets for several years. I found them at a yard sale and they've filled lots of purposes, but for now they hold our shoes. I am not a shoe girl, so all of our shoes fit in this spot.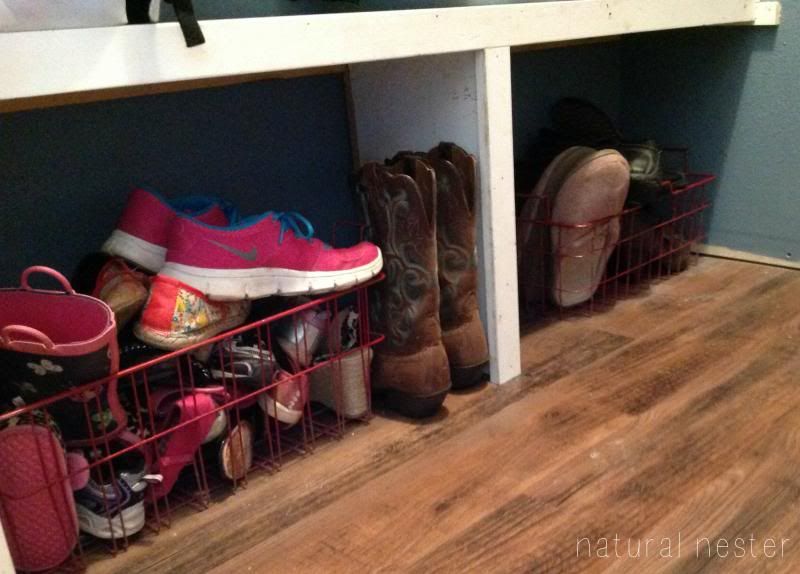 I wanted an organized spot for our recycling so I had Sweet Hubby pick up 3 of these plastic bins at the Dollar Store. We also got a closet shelf unit at Lowe's.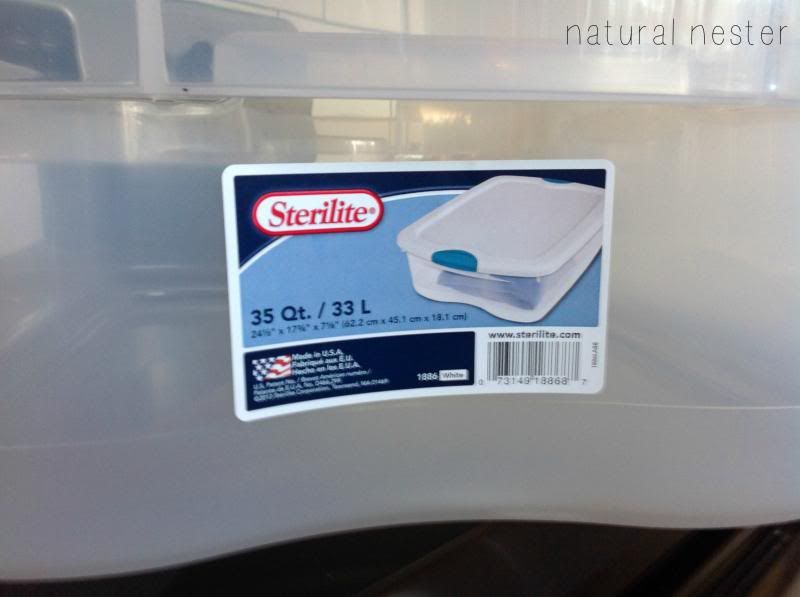 And here is the recycling center, all set up. The bins just rest on those shelf brackets. The blue bin at the top holds paper for me to shred and compost. The other bins hold Metal, Cardboard and Plastic. I made labels in Microsoft Word with pictures so that every family member knows what can go in each bin.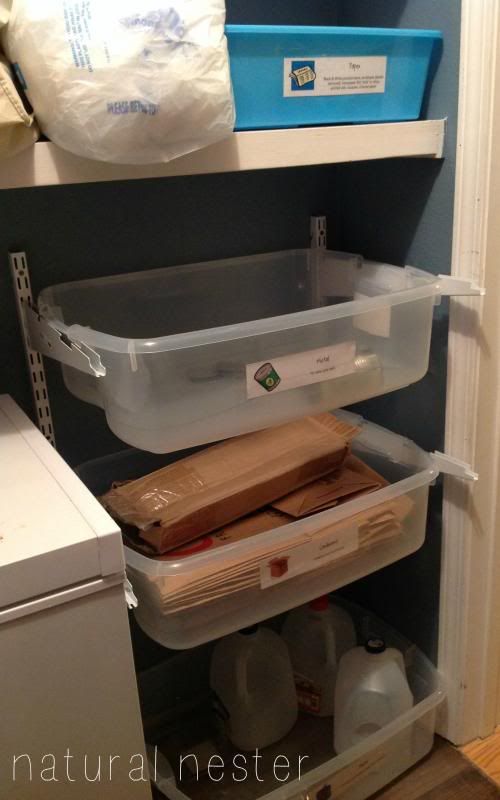 I didn't get a pic of it, but the rest of the shelves hold tools and paint supplies until we find them a more permanent home. For right now it works great, even if it isn't that attractive.
And that's it! Our pantry-turned coat closet has been a huge success for our family and put us one step closer to an organized home!