I've loved school house light fixtures for-EVAH, but they can be quite pricey (as in, $200+ EACH!) So, when I found
these
on overstock.com, I knew I had to have them for our kitchen! The day I ordered them, they were $52 each...but if you order today, it shows a price of only $45 (at 9:50am, 2/25...price could change anytime)!
Here they are installed...Sweet Hubby said they were easy to install. You can see that the ceiling looks pretty rough. We started scraping the popcorn off and that stuff is nasty! More details on that later.
I also needed a new light over the sink. I didn't want anything too matchy to the schoolhouse fixtures and I searched for weeks before settling on
this one
, also from overstock.com. The description said it was oil-rubbed bronze, but it's a dark gray which goes perfectly with the grey grout in the tile. This was more difficult to install because of the way the studs were and there was a giant hole in the sheetrock when we took out the soffit. But S.H. made it work...he still has a lot of smoothing out and patching to do, though.
S.H. also taught himself to tile and installed the backsplash. I am so proud of him! It's beautiful and I know how hard he worked on it. The tile we chose is a really inexpensive white subway tile from Lowe's and dark gray grout. The grout picks up on the specks in the countertop and ties everything together.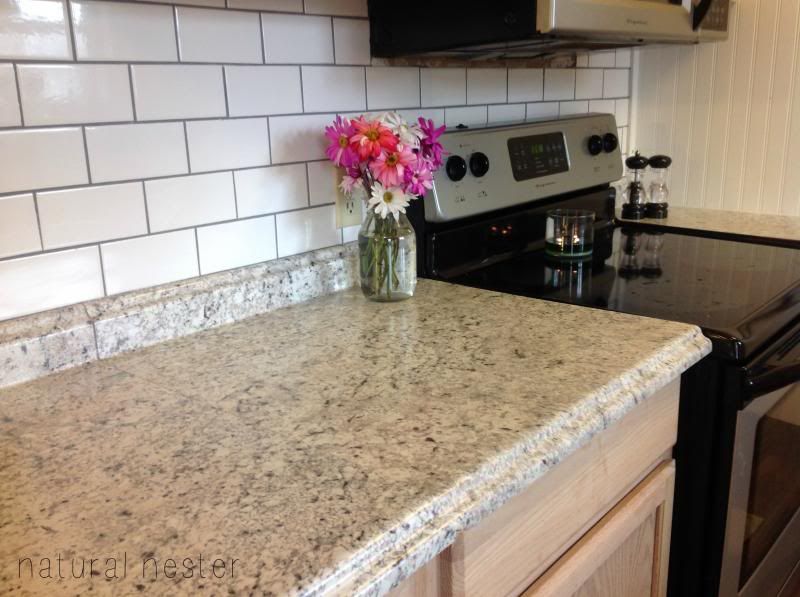 We've also been teaching ourselves to install crown molding (a job I HATE!) and Sweet Hubby has been adding some special details to the cabinets (beadboard, an over-the-refrigerator cabinet for cookie sheets and cookbooks and more!)
Our goals:
Finish the crown molding and all the filling/sanding needed
Finish scraping the ceiling
Fill and sand holes in the walls
Prep for the painter coming in just a few weeks! Squeal!!! :)
PS: I did not receive any compensation for my thoughts about our lights from overstock.com. I just love them and wanted to share this great bargain with you all!