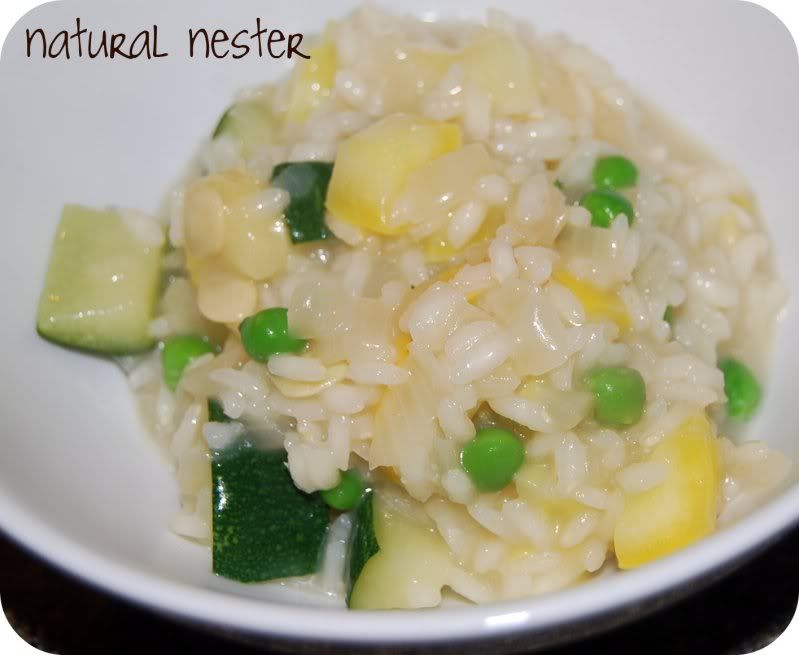 Tonight's dinner was one of my all-time favorites: Summer Squash, Zucchini and Pea Risotto. I originally found the recipe over at
Debbi Does Dinner.
To make it easy on you, I'm reposting the recipe here, but if you try it and like it, please stop over and let Debbi know...I'm sure she'd appreciate the bloggy love! This is a great meal for Meatless Monday or you can serve it alongside roasted chicken and a fresh salad. Yum!!!
Summer Squash, Zucchini & Pea Risotto
1 Tbsp. olive oil
1 medium onion
1 medium zucchini, cut lengthwise and then in 1/4" thick slices*
1 medium summer squash, cut lengthwise and then 1/2" thick slices*
1 quart of chicken stock (or vegetable stock, if you prefer)
2 Tbsp. butter
1 cup arborio rice
1 cup peas (I use frozen)
1 lemon, juiced
Salt and Pepper to taste
Parmesan cheese, grated
In a saucepan, heat olive oil and saute the squashes for 2-3 minutes. Remove from heat and set aside. In a larger saucepan, melt butter and add onions. Saute until translucent, about 3-4 minutes; add rice and stir to coat with onions and butter. Add 1/2 cup stock and stir until liquid is absorbed. Continue adding 1 cup of stock at a time, stirring frequently to keep from sticking; this will take about 5-7 minutes per cup of stock.
After you've added all your stock, the risotto should be creamy and the rice should be tender (but not mushy!) Add the squashes and peas and stir, cooking for a few minutes until heated through. Remove from heat and stir in the lemon juice (don't leave this out...it makes the flavors so bright and delicious!) Add salt and pepper, if desired. (I like to top mine with grated parmesan, so I leave out the salt.)
*Obviously, my squashes aren't cut up this way. I cut mine in 1/2" chunks and froze them when I got a bunch at the farmer's market in the fall. I steamed them in the microwave, then added them to the risotto after it cooked. It tasted just as great as using fresh squash!
Buon appetito!