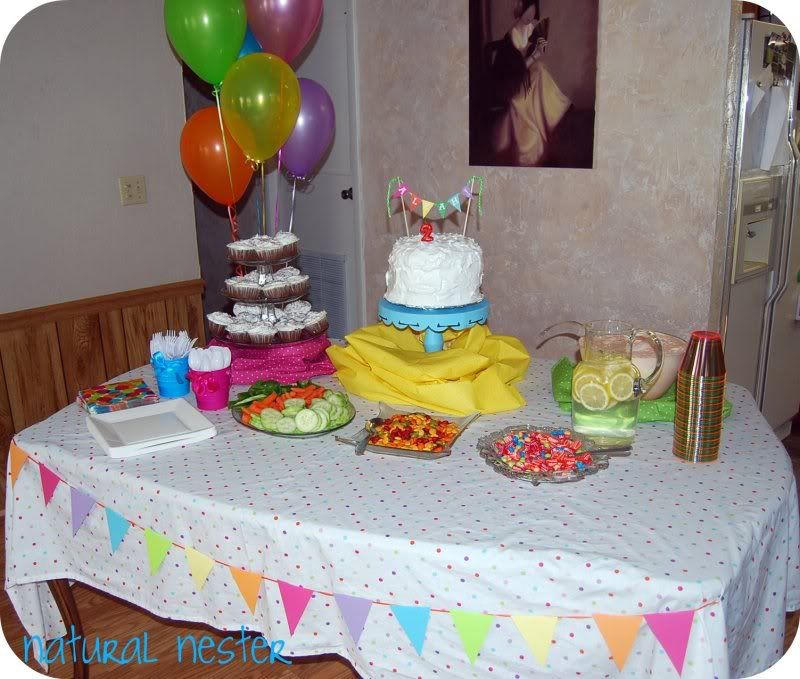 We celebrated Miss A's 2nd Birthday this weekend and it was so much fun! Not only did I have a ton of fun planning it, but it was an absolute joy to watch her interact with all of our sweet friends and family!

The party table was so colorful and fun! A polka dot sheet acted as the tablecloth and more colorful fabric was bunched around the cupcake tiers, cake and punch bowl. Utensils were placed in little metal pails from the Target $1 spot and balloons (one of Miss A's favorite things!) added some fun.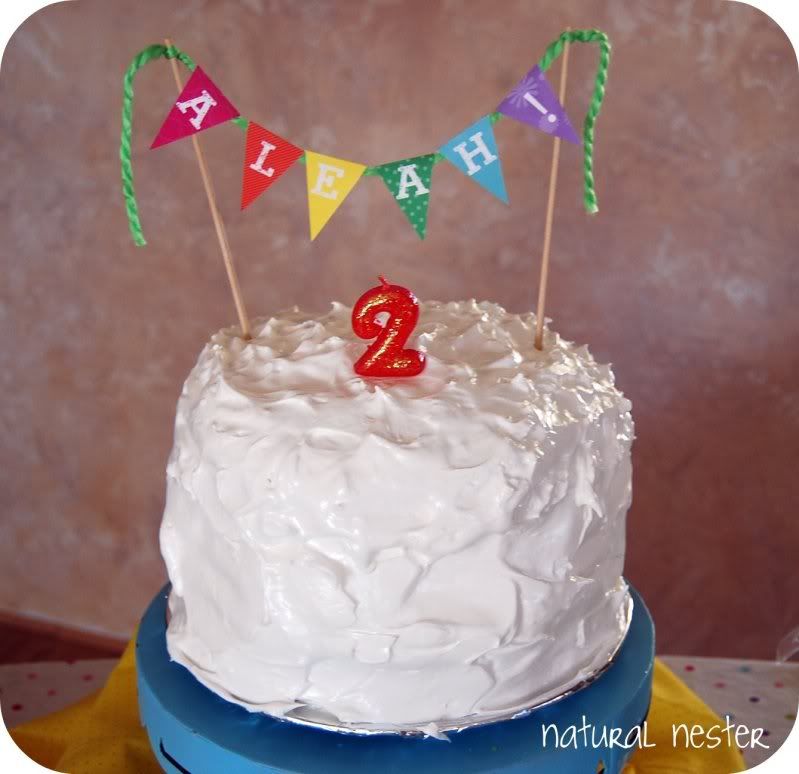 The food was a simple affair. Cake and ice cream, a vegetable platter, Rainbow goldfish (of course!) and a bowl of tropical Skittles and Starburst...lots of sugar! But you only have one birthday a year, so why not? I served Creamy Reception Punch (recipe below) and Iced Water with Lemon.
The sweet little pennant banner was designed to match the invitations. The amazing Carlee at
Ladybird Ln.
designed the printables and I'll be sharing detail shots of those tomorrow. And if you guessed that this is a rainbow cake, you're right!! Unfortunately, I was too busy serving ice cream to get a good shot of it being cut, but I know our photographer did...I'll share his shots later. Mom and I used Wilton gel colors: Rose, Orange, Lemon Yellow, Leaf Green, Sky Blue and Violet.
Now, do you want the recipe for the fantastic punch we served? This recipe has been in our family for years and I love it!
2 quarts vanilla ice cream
4 cups orange juice
1/2 cup lemon juice
56 oz. Sprite
10 oz. jar maraschino cherries, undrained
Chill juices and Sprite until you're ready to make your punch. Spoon vanilla ice cream by tablespoons into a large punch bowl. Add juices, stirring to muddle the ice cream. Slowly pour Sprite into bowl and stir gently to mix. Add cherries and stir to mix.
I'm linking up this week! Join me at these fun parties for more crafty inspiration!