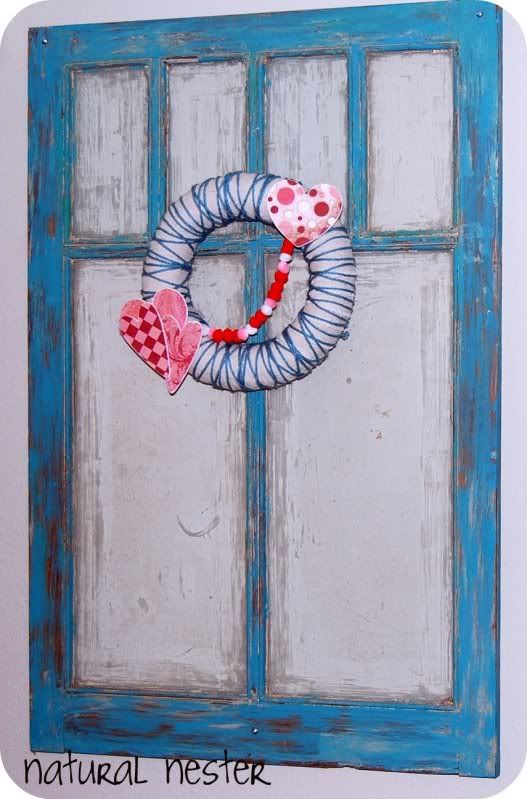 I've been doing a little bit of nesting around here and added a few more sweet details for Valentine's Day! This window is on the first wall you see when you come in our front door and I love having a wreath there! It's just a straw wreath, wrapped in unbleached muslin and yarn. I added wooden hearts and a small pompom garland and called her done! I decoupaged the hearts with scrapbook paper and have had them in my craft closet, waiting for the perfect project for a few years now...they were perfect for my little wreath!
Next up was adding a little pennant banner to the old shutters hanging on our living room wall. I had some leftover wooden hearts so I added them to this pennant banner I made awhile back. I think it adds the perfect touch to my shutters, don't you? You can click for a close-up, but the fabrics used on the banner are blue/white gingham, red/white gingham and a tiny floral pattern.
You can see my original post about the Valentine "mantel"
here
...there are better photos of the shelf details and that ca-yute pompom garland.
The Valentine wall arrangement
That's all for today...this will be a crazy week while I get ready for Miss A's 2nd birthday party on Saturday! Next week I promise to share photos of the party, the cake and all the precious details going into her special day! You won't want to miss it...there may even be 6 different shades of food coloring going into her cake! :)
I'm linking up my little Valentine crafts to these fun parties:
Turquoise Lovin' Party
Get Your Craft On