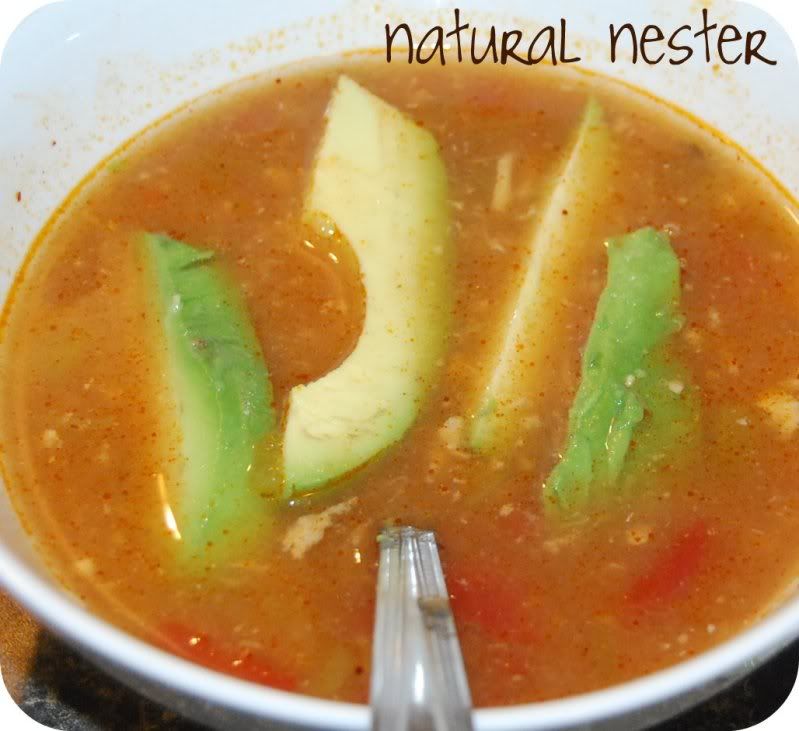 I know I posted
a review of the new ebook Good and Easy Eats
yesterday(and I'm giving away a free copy
HERE
!) which happens to be a vegan/vegetarian cookbook so let me clarify: my family isn't transitioning to being vegetarian. But we are incorporating more real/whole foods into our diet. What that means right now is that I'm trying to use simpler ingredients, fewer processed things and include more fresh fruits and vegetables. For where we are at this moment, this soup is a good fit for us. Plus, it's remarkably simple to prepare and tastes delicious!
PS: It's not a greasy, fat-laden soup. What you see on the side of the bowl is the cumin and chili powder; I didn't do a great job and getting everything mixed together. :) But it still tasted great, even if it isn't very pretty.
Slowcooker Chicken Tortilla Soup
1 lb. shredded, cooked chicken
1 (15 oz.) can diced tomatoes, undrained
1 (10 oz.) can green enchilada sauce*
1 medium onion, chopped
1 (4 oz.) can chopped green chilies
2 cloves garlic, minced
2 cups water
1 (14.5 oz.) can chicken broth or homemade chicken stock
2 tsp. cumin
2 tsp. chili powder
1 tsp. salt
1 bay leaf
1/4 tsp. black pepper
1 (10 oz.) package frozen corn
7 corn tortillas
Extra virgin olive oil
Chopped cilantro, avocado slices and shredded Cheddar cheese, all optional

Place the chicken, tomatoes, enchilada sauce, onion, green chilies and garlic in the slowcooker. Pour in water, chicken broth and seasonings. Stir in corn. Cover and cook on low 6-8 hours or on high 4-5 hours. Discard the bay leaf.

Preheat oven to 400 degrees. Lightly brush both sides of the tortillas with oil. Cut tortillas into thin strips and spread on a baking sheet. Bake in preheated oven until crisp, about 10-15 minutes.

Ladle soup into bowls and top with tortilla strips, cilantro, avocado and cheese, if desired. (Since I'm going dairy-free, I left off the cheese and completely forgot the cilantro! I also omitted the tortilla strips this time.)

*I haven't tried making my own green enchilada sauce yet, but I want to...if you have a recipe to share, send it my way!
I'm linking up to Ladybird Ln's Weekend
Show Off Party
!
Buon appetito!