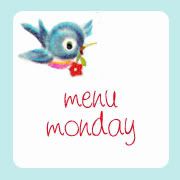 This is going to be a crazy week! We have a lot of activities and things going on so I'm simplifying the menu this week and not planning as many separate meals. We'll fill in with sandwiches and leftovers when necessary. It's all trial and error to find a system that works for us! It's supposed to be a cold, rainy week, so I've planned for us to have a few new-to-us soup recipes, made with wholesome ingredients. Yum!
Pancakes and Bacon (for Sweet Hubby and Miss A)
Chicken Noodle Soup, Whole Wheat Hot Rolls
Dessert: Apple Crisp from
Good and Easy Eats
(This is my affiliate link. I get a proceed of the sales if you buy through this link.
If you don't want to do that, use
this link
instead.)
Broiled Chicken Sandwiches with Honey Mustard Glaze
Slowcooker Vegetable Beef Soup, Cornbread
Leftovers
If it's nice (i.e. no crazy wind and rain), Sweet Hubby might grill some burgers.
If you have some healthy, wholesome recipes to share, please share links or add them to the comments. We love trying new things!
PS: I apologize for the wonkiness of the spacing in this post. Blogger is being kind of crazy today. :)
Buon appetito!