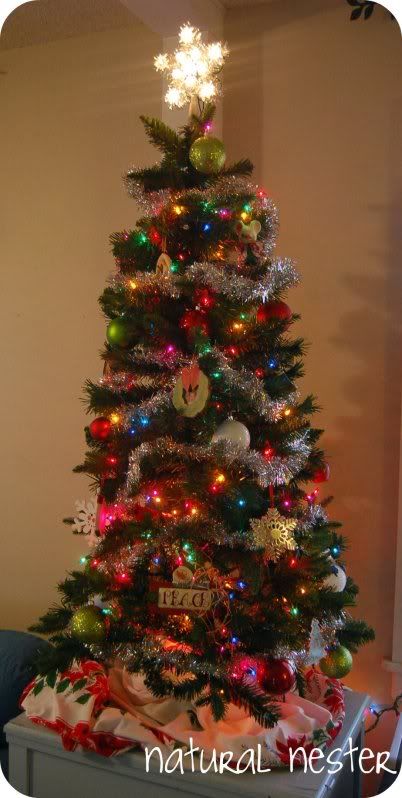 I finally found time to snap pics and write a post to show you our Christmas decorating for this year. I usually do more, but having a toddler and being pregnant has kind of zapped my energy. Imagine that!
Our tree (for the last 3 years) has been decorated with an assortment of ornaments, vintage, handmade and new. Miss A loves the colored lights and it's provided many opportunities for color identification. You know me...I can't pass up a teachable moment! I'm sad to say that our vintage star topper died this year and I had to go buy one at Wal-Mart. It is NOT. The. Same. Next year I think I'll change up the theme and use some ribbon I just found at Hobby Lobby to guide the color scheme.
We do not have a fireplace or mantle in this house, so I had nowhere to hang stockings. For over 2 weeks they just laid on the sofa or on the floor. No joke! Then last Saturday while Miss A and I were at Family Baking Day, Sweet Hubby dug this white shelf out of our storage building and hung everything up for me. When I saw it, I cried. Pregnancy hormones...gotta love 'em! :) The pink/red and green banner says "HOPE" and the shelf accessorizing was provided by Sweet Hubby. After the holidays I'd like to put up some art prints or something instead of knick knacks. And maybe next year I'll make us some stockings...maybe. Did you notice that Sweet Hubby even hung a stocking for the new baby? What a sweetie, he is!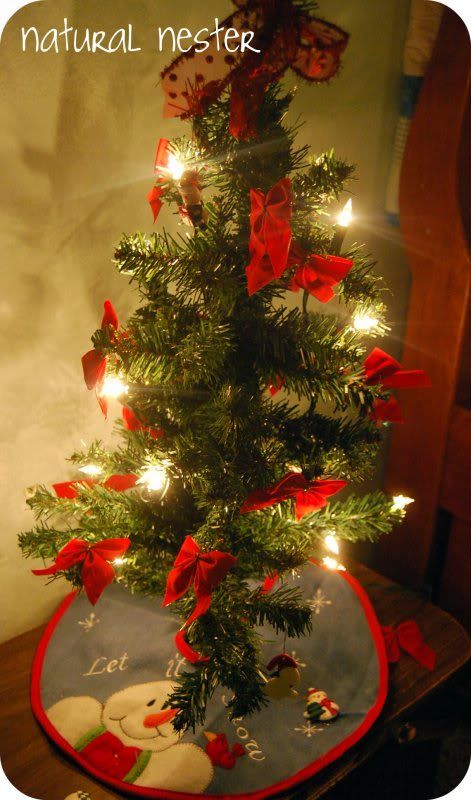 Miss A has her own miniature tree in her room and she LOVES it! We let her pick out the ornaments and tree skirt at Hobby Lobby and of course, she chose snowmen. She might have a slight obsession with them. :) The tree is constantly being redecorated and I keep finding those little bows and snowmen in odd places around the house, but it's all hers and helps to keep her from redecorating the big tree.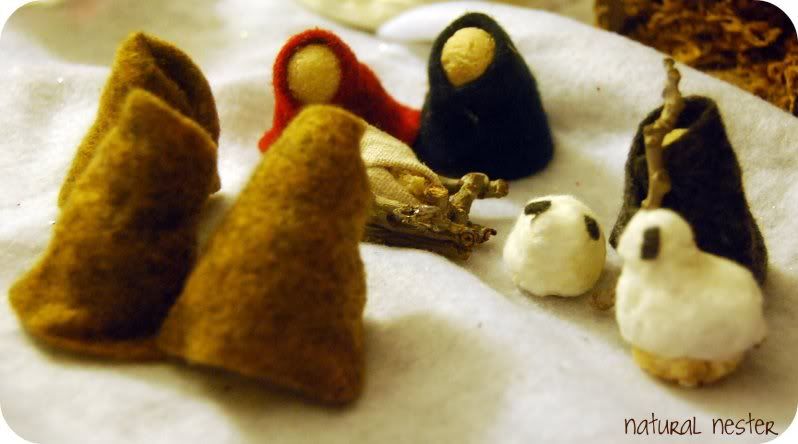 Several years ago I made this salt dough nativity...it's probably 7 or 8 years old! It's sitting on top of a cabinet that houses another 4 nativity sets that came to us as gifts or are thrift finds. I love nativity sets and hope to add a larger, more substantial one to our collection when they go on clearance after Christmas.
Well, that's all for now...hope you enjoyed the little tour of Casa de Natural Nester! We're enjoying the bit of Christmas cheer spread throughout the house!
Merry Christmas!