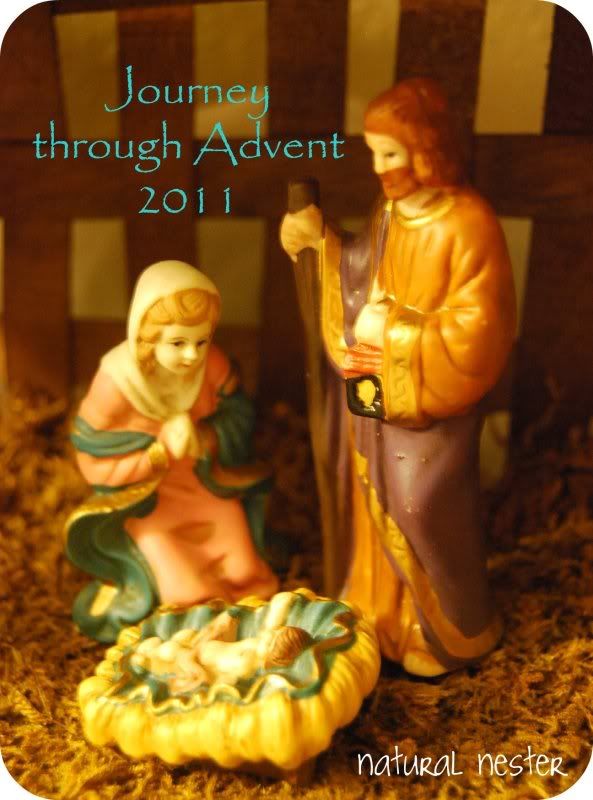 Look! The virgin will conceive a child!
She will give birth to a son,
and they will call him Immanuel,
which means 'God is with us.'
Christmas is so simple, really. In our culture, it's become about so many things. Gifts. Parties. Baking and cooking special foods. Traditions. Crafting. Songs. Even politics! (Say "Merry Christmas" or "Happy Holidays" to the wrong person and you might get an earful!) But in truth, Christmas isn't really about any of those things. This time of year when we set aside time to honor the One who came as a child, birthed to a virgin in a faraway land, well it can be much simpler than we make it.
In our church sermon today our pastor said, "Christmas means only one thing: that God came to be with us. It is 'God with us.' Nothing more, nothing less." In the craziness of this season when there seems to be a never-ending to-do list and for each item I check off, I add 10 more, that's such a comforting and yet foreign thought. What if I reevaluated everything that I "have to do" to get ready for Christmas and simply readied my heart?
God with us. What does this mean? It seems like the simplest phrases can so throw us for a loop, in this day and age when we tend to complicate everything we touch. But think about it for a moment. God with us. That the God of the universe chose to become flesh, to enter into the human mess and embrace us where we were. And not only that He chose then, 2000 years ago, but that He is still choosing to be with us. That He didn't just come once, but continually comes.
I urge you, this time of year and throughout the coming months, to focus not only on that one event of His birth in Bethlehem, but to consider His continual coming. His ever-present involvement in our lives. His constant giving of grace, love, joy and peace. If it feels like He isn't near, ask Him to reveal His presence. I can solemnly promise you that He will.
For everyone who asks receives,
and to him who knocks it will be opened.
And keeping with my promise last week, this is the reading schedule I'm keeping to during this coming week.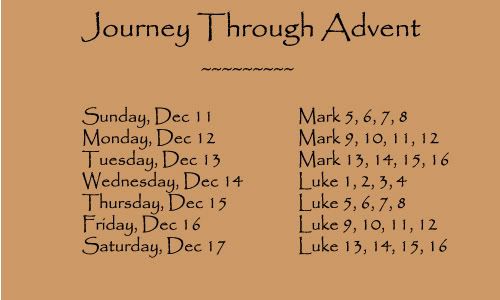 God Bless You, this season of Advent!