Are you completely sick of my pantry? So sorry, but I couldn't resist a little update! This week while we were rearranging our entire house due to the carpet installation, we decided to move a shelf from the office area to the pantry. It was a much better fit there and added some much needed storage!
I was able to move all of my breakfast items, beverages, baking supplies, onions, pasta, potatoes and slowcookers to that shelf, leaving the built-in, super-sturdy wooden shelves for canned goods and snacks. I also whipped up a 5-minute dry erase menu board using supplies I had in my craft stash. I added some vintage bicycle baskets to hold plastic sacks and boxes of tea and some scrapbook paper labels to all the shelves.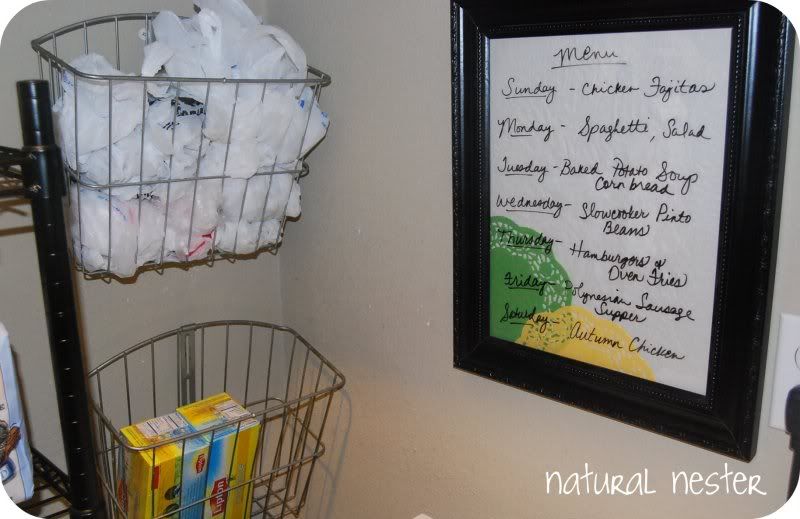 The menu board was so easy to create! Using an old picture frame, I just wrapped the existing mat with white tissue paper and added a few paper doilies for good measure. A package of dollar store dry erase markers for writing directly on the glass and I'm all set for menu planning! The clipboard is where I keep an ongoing grocery list, a list of foods Miss A likes (to keep us from getting in a rut...ha!) and the weekly breakfast menu.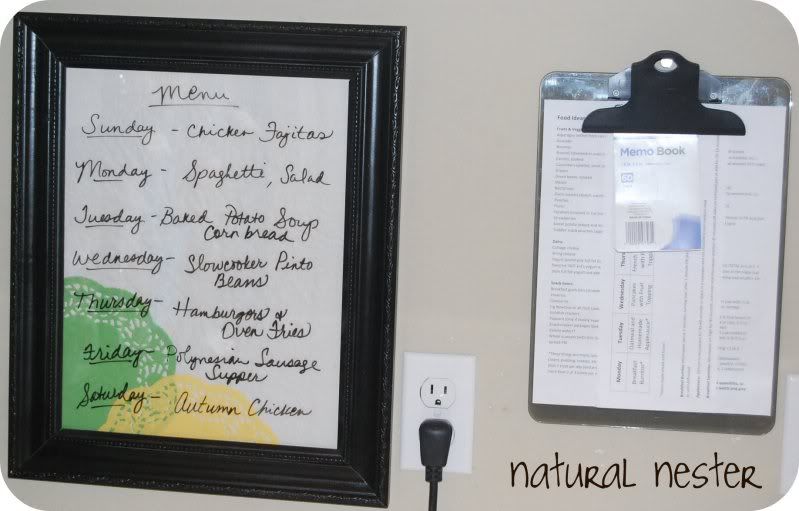 I still have a few things left to do before the pantry is complete. I need to paint the walls and make some sturdier labels for the shelves (to make it easier on Sweet Hubby when he helps with putting away groceries!) I have a cute idea in mind that I will share when it's finished! For now, I love the way this is functioning and am hopeful it will help make our lives that much easier when the new Baby arrives!
Until next time,