Don't tell me you don't have
this song
running through your head now. You're welcome. I also wanted to post a big Okie welcome for all the new friends who are following my little ol' blog. Your comments mean so much to me! I read
every single one!
If you haven't received a personal reply, it's probably because you don't have an email addy tied to your profile in blogger. But know that I appreciate every kind word said and love having you all along for the fun!
Anywho, I've been working for the last couple of hours on some changes to the site and I'm thrilled with how it's coming along! Want to know what I've been up to?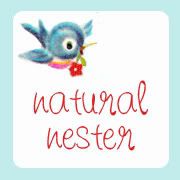 After much haggling with Photoshop, you can now grab the official Natural Nester button for your sidebar or post! Yea!

I've added several pages to the right column. Looking for a specific recipe? They're now listed by type on the

Tummy Time page

! Looking for a

Papa Talk

article? You can now find them by title! I've even listed every

craft project

I've shared, for quick and easy access. (And I added an

About

page...this is by far one of the hardest 3 paragraphs I've ever written. Note to self: It is

not

fun writing about yourself!)

You may notice there's a page for "The Shop." This is coming soon...I'm feverishly working on projects to add to an upcoming etsy shop (which would go much smoother with a working sewing machine!)

I've tried adding a button so you can follow me on Pinterest, but it's not cooperating at the moment. Hopefully that will be up soon...I have some fun boards going (Party Crazy, for instance!) and I'd love to see what you're up to!
Now
I have a question
for you dear folks. After looking through Blogger settings, I was wondering what your thoughts are on
"the jump."
If you don't know what that means (and I didn't until about 24 hours ago) it just means that on my homepage, instead of seeing each complete post, you'd just see the title and a sentence or two, then have the option of clicking "Read More" if you wanted to read the entire post. Is that something you like in a blog? Would it be annoying? Helpful? I won't make that change unless I know that those reading would like it, so please give me feedback!
That's all for now...I hope you like the new changes and that it makes it easier to navigate Natural Nester. Now, it's 11:30 our time and I still have to clean my kitchen before I head off to bed. Too bad I can't do
that
with the click of a mouse!
G'night!