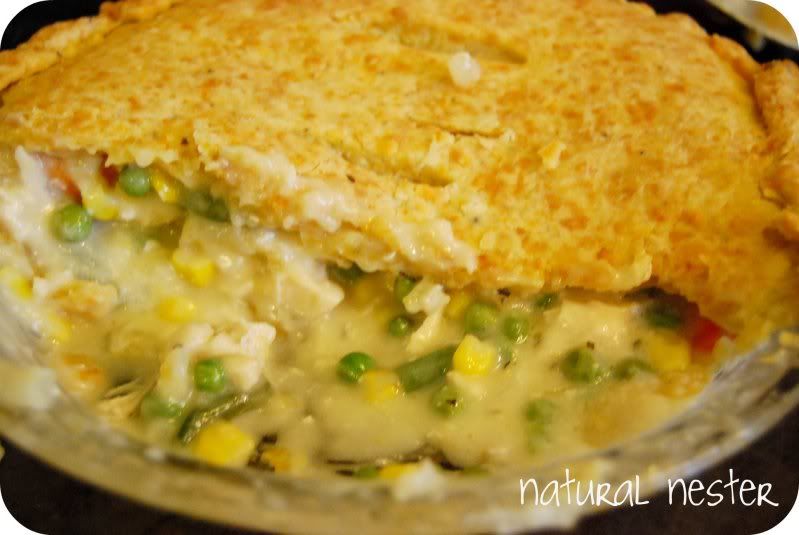 As I said a few weeks ago, I've been doing a lot of research on making
freezer meals
. Sweet Hubby hates storebought chicken pot pies and I can't say that I blame him. But it's always been one of my favorite meals that my Mom makes...she makes the crust from scratch and fills it to the brim with hot, steamy chicken and veggies. So yummy!
I've never been able to recreate Mom's, so I read several recipes and between them came up with something we both really enjoyed for lunch today. That's right...I'm Dr. Frankenstein in the kitchen! In the interest of full disclosure, I'm linking to my sources and explaining which parts I used.
April's Chicken Pot Pie (with Freezer Adaptation)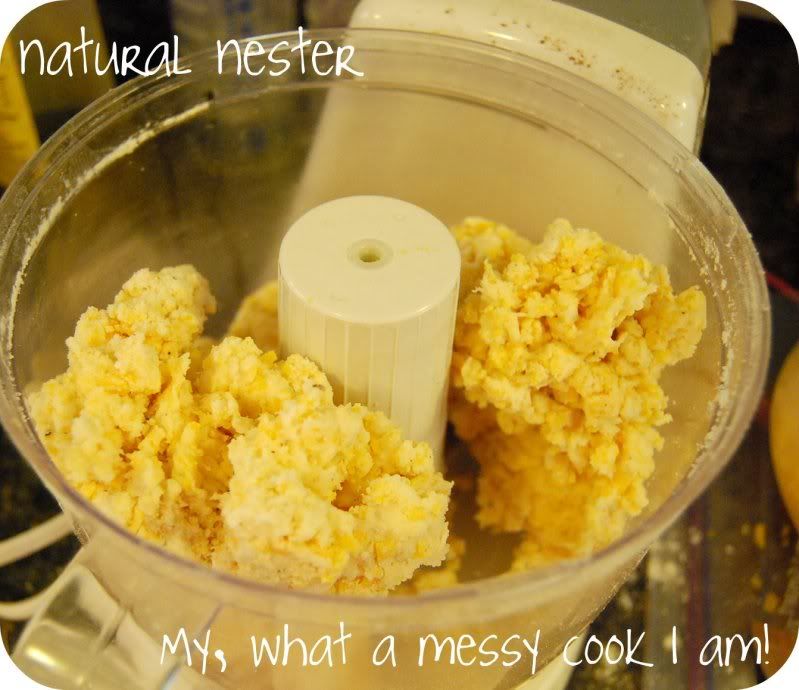 Crust:
(from
Group Recipes
-changed the shortening to butter and added the coarse ground pepper.)
1-1/2 cups all-purpose flour
Dash of salt
1/4-1/2 tsp. coarse ground pepper
1 stick cold butter (do not use margarine...ever.)
1-1/2 cups shredded medium or sharp cheddar cheese
6 Tbsp. cold water
Splash of vinegar
In a food processor, combine flour, salt and pepper. Add pieces of the butter and pulse until you have coarse crumbs. Add cheddar and pulse until mixture is crumbly. Slowly add water and vinegar, pulsing until dough forms into a ball. Remove from food processor onto a floured surface and divide in half. Roll one half of dough into a circle and place in a pie pan. Roll the other half of the dough for top crust. (The less handling, the better!)
Filling:
(
Fabulous Freezer Meals
by Jenny Ahlstrom Stanger -used the ingredient list for the cream sauce, minus the salt and pepper since that's in the crust; I also used frozen mixed veggies instead of fresh. I followed her baking directions.)
2-12 oz. bags of frozen mixed vegetables (I used SteamFresh veggies.)
1 large onion, chopped
1 cup (2 sticks) butter
1 cup all-purpose flour
1 tsp. dried thyme
3 cups chicken broth
1-1/2 cups milk
4 cups cubed, cooked chicken
Steam veggies in the microwave (or on stovetop) for 3-4 minutes, just until crisp-tender. Meanwhile, in a large skillet, saute onions in butter until softened. Add flour and thyme and blend well. Stir in milk and broth with a whisk to blend together and remove any lumps. Cook for 2 minutes, or until cream sauce begins to thicken. Add chicken and vegetables to cream sauce and stir together. Fill the prepared bottom crust with filling. Top with the remaining crust; cut slits in the top crust for steam to escape. Bake at 375 for 30-40 minutes or until the crust is golden brown.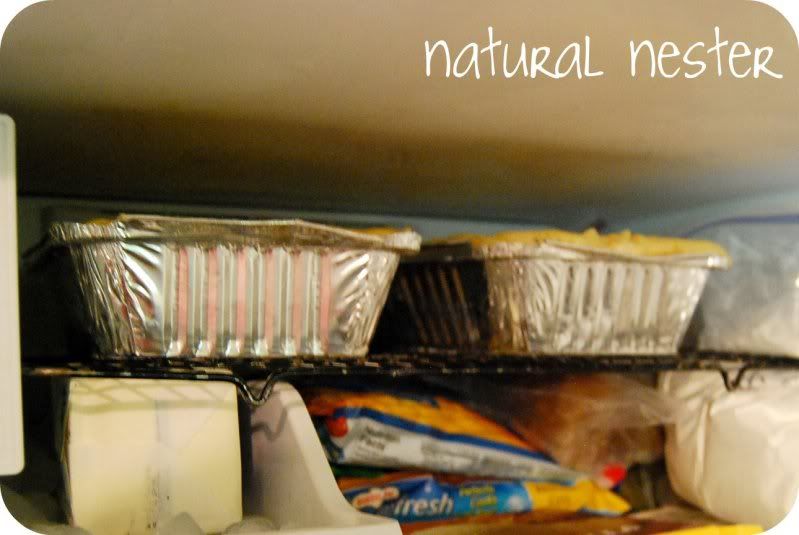 My adaptation: I made three pies today, one for lunch and two for the freezer. I used a round pie plate for our lunch pie and 2 of
these pans
from Dollar Tree. I used one filling recipe, but ended up making the crust recipe three times to accommodate all the filling; however, next time I make this, I will roll the crust out thinner and only use 2 recipes. Although I love crust, it was a little thick.
Once the two foil pans were assembled, I put them in the freezer on a cooling rack (to keep them level) until they froze through completely (about 2 hours.) I then wrapped them in plastic wrap, followed by freezer paper (with the baking directions written on them) and now I have two more freezer meals ready to go on busy days!
To bake a frozen pie: Remove Chicken Pot Pie from freezer and remove packaging. Cover the edges of the crust with foil and place pan on a cookie sheet. Bake at 425 for 30 minutes; lower oven temperature to 350 and bake another 70-80 minutes or until the crust is lightly browned.
I'm sorry this post turned out to be so long!! I'm not good at writing recipes, but wanted to share this yummy treat with you, especially you busy Moms! In the time it took me to make one meal, I made THREE! Check back later in the week because I'll be reviewing the book mentioned above (Fabulous Freezer Meals.) If you're thinking about buying it, read my review first!
This week I'm linking up to a great new party over at Ladybird Ln!
Buon appetito!