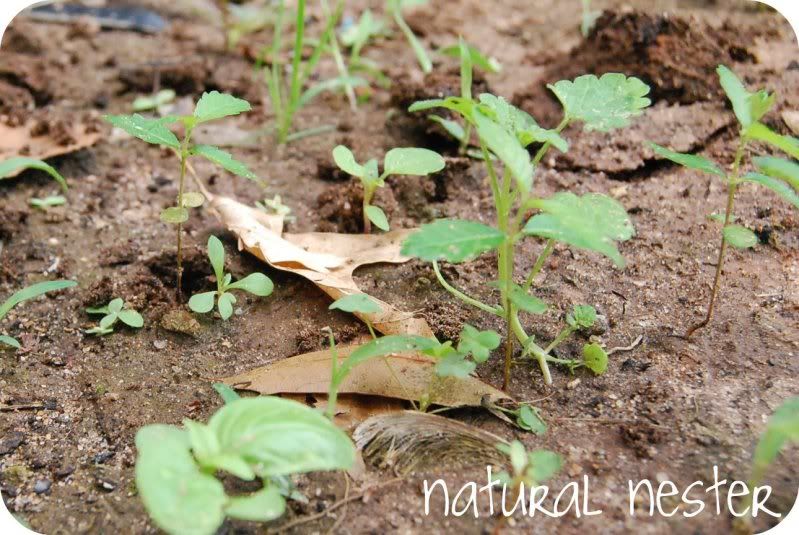 The answer to the question? I have no idea. Gardening is a complete mystery to me. In years past, I've checked books out from the library, read online and talked to gardeners, only to be frustrated when things don't work out as they "should." As it turns out, the square foot gardening guy doesn't garden in Oklahoma and clay "soil" will make even the most viable seed die a slow, painful death.
But regardless of my failures and partial-successes, I'm always amazed that you can drop seeds in the ground and they grow (most of the time.) And every time I see a seedling poke it's head up from the soil, I think of Jesus and what He said: "Unless a grain of wheat falls into the earth and dies, it remains [just one grain; it never becomes more but lives] by itself alone. But if it dies, it produces many others and yields a rich harvest."
I've been thinking of this and praying about it a lot lately. Unless a seed falls to the earth and dies.
A seed in the packet is of no value.
It doesn't have the ability to grow into anything that will bear fruit. It has to be planted in the earth, buried in the dark. But once it has died as a seed, life breaks forth and it pushes up toward sunlight.
Let me lay it all out for you: Christians in the four walls of the church are of no value to the world around them. I don't know if we stay in for fear, because we underestimate the value of what
we've been given
or because we deem ourselves unworthy or incapable of doing the works of Jesus, but regardless we need to each get into the Secret Place and be transformed! Seeds can't wait in the packet for earth to come to them and we can't sit in our building and wait for those who are hurting to come to us. Our mandate is to
get out of the building
, go into the world and
set captives free
. Bring healing to the wounded. Rebuild the broken down places in people's lives and bring Hope to them (BTW, Hope has a name and His name is Jesus!)
I feel a deep stirring in my heart to reach out to some specific people/groups in my area and abroad. I'm not ready to share that yet, but I hope that you'll begin to pray about who you can minister to. I hope you'll ask Jesus when you need to
cross the street
and minister to those in need.
Blessings!