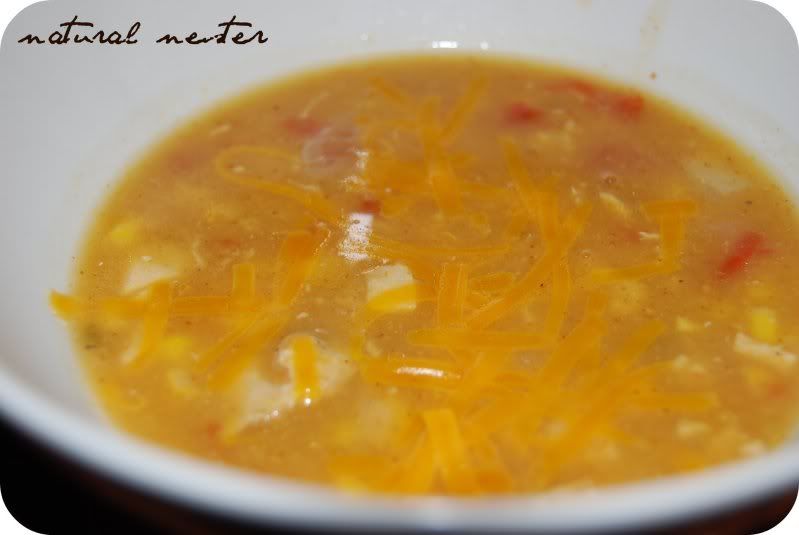 This soup is
not
the Belle of the Ball, I'll give you that. Her color? Her texture? Hmmm. But the flavor is dynamite...I loved this. It came out a lot like McAlister's Chicken Tortilla Soup which I also love. Yum yum! I topped it with a bit of shredded cheddar, but it would have been so much better topped with sour cream, avocado, chopped green onions and cilantro (which also would have helped her photo op!) But I was using what I had on hand because
I forgot tonight was the big game! Oops!
So, here's my oh-no-people-are-coming-over! version. In the future, I'll be looking for a way to "clean it up" and use home-canned Rotel and enchilada sauce. But in a pinch, this worked great!
Chicken Enchilada Soup
1 tablespoon extra-virgin olive oil
1 lb. cooked, shredded or cubed chicken (mine was cubed)
1 onion, diced
2 cloves garlic, minced
4 cups chicken broth or stock
1 can green enchilada sauce
1 can Rotel (in the heat level you prefer...I used mild)
1 can corn (would've been better with frozen corn)
2 cups cheddar cheese
1 teaspoon sea salt
1 tablespoon chili powder
1-2 tablespoons cumin (you know me...I used 2!)
2 tablespoons cornstarch, dissolved in 1/2 cup cold water
Heat oil in large pot over medium heat. Saute onions and garlic until translucent, about 2 minutes. Pour in chicken broth. Add chicken, enchilada sauce, Rotel, corn, salt, chili powder and cumin. Heat to boiling. Add cheese and stir until melted. Slowly pour in cornstarch and water mixture. Reduce heat and stir until soup is thickened (being careful not to let it burn!)
Buon appetito!