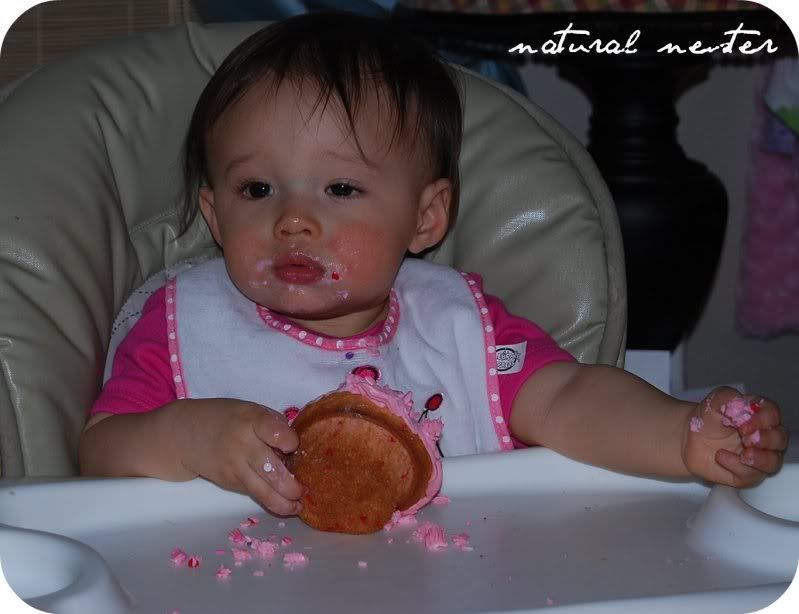 Sunday we celebrated Miss A's first birthday!!! The party was great, so much fun! Our lovies came by car, truck and van and filled our home with their smiles and laughter. When the chorus sang "Happy birthday dear (Miss A)" my eyes were stinging with tears. Aside from the fact that I completely forgot 2 very important parts of the party (ice cream for one!!) it was a success anyway. In all the excitement, we didn't take many pictures (but others did, including our awesome family photographer Michael Kolb of Lucky Shutter Photography!!) so I'm sure we'll get more pics later. You can see the enormous pile of gift bags and paper behind me though...it was crazy! Miss A is one loved little girl!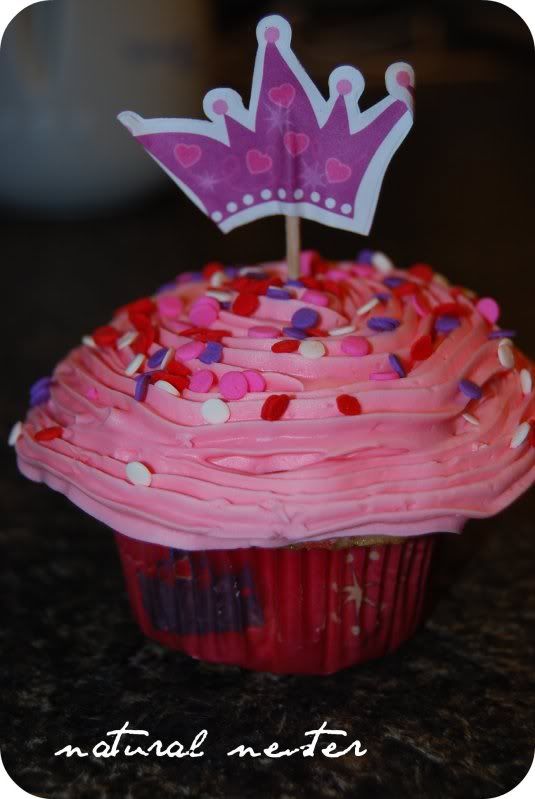 I made vanilla cupcakes (in princess cupcake papers) with strawberry icing and added sprinkles and cupcake picks. I also made a batch of chocolate cupcakes too, but lost steam when it came to piping on the icing. Miss A looks like she's about to fall asleep here, but she enjoyed her cupcake (she didn't eat the entire thing, but she was up in the middle of the night with an apparent tummy ache...THIS is why we don't let her eat junk like that!!)
The party was at 5pm so we served dinner. Of course, I included my favorite King Ranch Casserole and I'm including the recipe here. (This is one I need to "clean up" to replace the MSG-laden cream of chicken and mushroom soups with homemade versions. But it's delicious nonetheless!) I also made a spinach-mushroom salad, prepared a simple vegetable tray and made homemade ranch dip (first time and it turned out great!) It was such a fun time with friends and family and I know Miss A had a good time with her buddies, especially Little Man.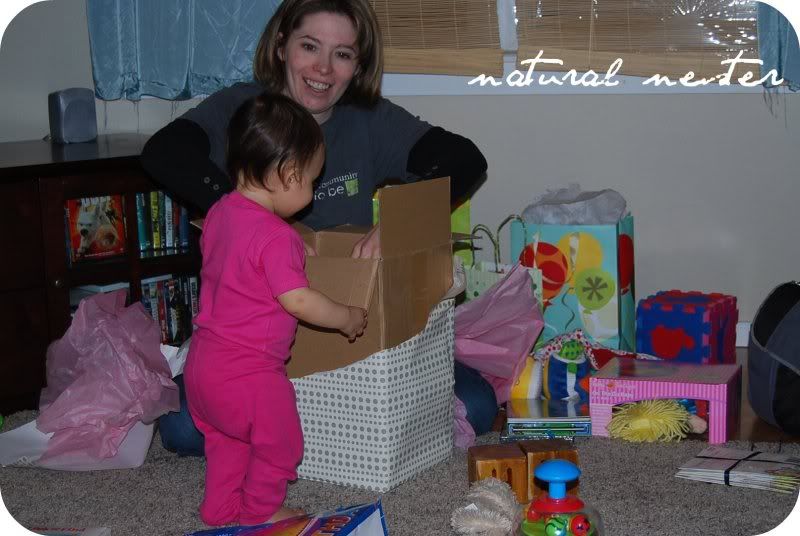 2-3 lb. cooked, shredded chicken
Onions
Flour tortillas, torn into small pieces
Shredded Cheddar cheese
1 can cream of mushroom soup
1 can cream of chicken soup
1 can Rotel tomatoes (get the heat level you want; we use Mild because I don't like things too hot)
1 can chicken broth
In a saucepan, heat soups and Rotel. Stir in enough chicken broth to make a soupy consistency. In a greased/sprayed 9x13 baking dish, layer onions, chicken and tortillas. Repeat layers, filling up the pan. Pour the soup mixture over the layers. Top with cheddar cheese. Bake at 350 degrees for at least 1-1/2 hours or until cheese is melted, mixture is bubbling and onions are cooked. Top with salsa and sour cream.