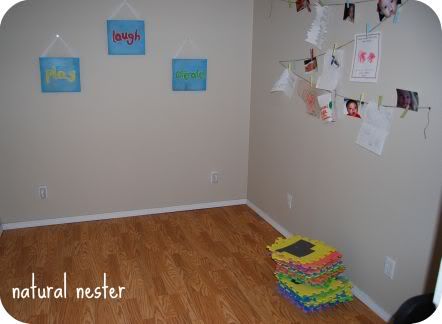 BEFORE

I finally finished a project!!! Yea!! During the summer sometime, my Dad found a big box of those foam tiles (the kind that "click" together). He snagged the huge box for just
$15
thinking I could use them in my classroom. I'm still a few years out from having my own classroom, so I thought we could put them to use now in Miss A's playroom. After giving each tile a good scrubbing I cleared out her playroom. This is a space just beside our kitchen, so the location is perfect...I'll be able to keep a close eye on her while I make dinner, clean the kitchen, etc. Here's the before...pretty plain Jane. The laminate floor is
cooold
in the winter, definitely not something
I
would want to crawl around on. The tiles were the perfect solution.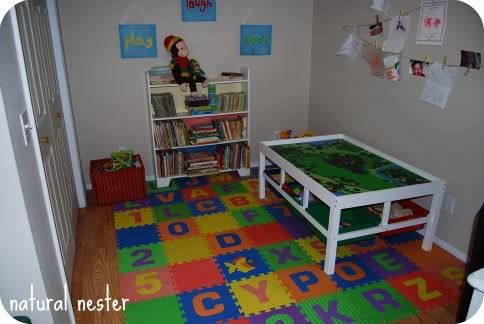 We used duct tape to reinforce the back and keep her from pulling out the smaller pieces of the letters. After a few hours of work (and
most
of that was cleaning the tiles and this room), her playroom now looks like this! The fishy tile is my favorite...can you spot it? I'd still like to get her a beanbag or something to sit on to read books, but she doesn't need that until she's much older. Right now, I think it's great! The only thing left to do is buy a
large
baby gate to go across the opening (I have one in my Amazon shopping cart...just waiting to get my credit from selling books added before I order!)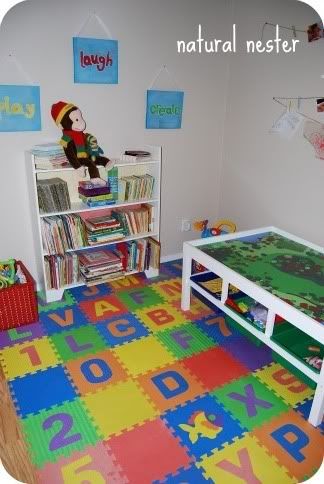 AFTER

You can see the photo wall in the before picture, but here's a detail shot. It's just twine attached with large nails (I think they're leftover from nail head trim? I found a box of them in this house when we moved in.) The pictures and drawings (some from Miss A's church nursery time and some from my kids at school) are attached with clothes pins. The pins are painted fun, bright colors. I have plans to paint a magnetic chalkboard on the bottom 2/3 of this wall for when Miss A gets older. Do you remember the playroom plaques I blogged about
here
? Well, they're still up and I still love them!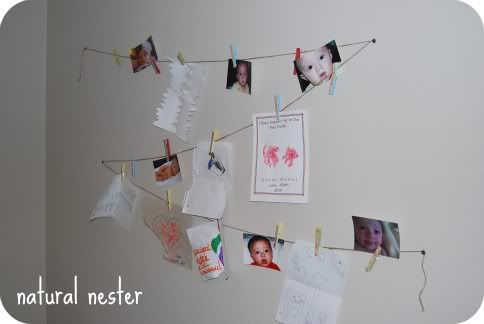 PHOTO WALL

Well, that's it for now...thanks for stopping by to check out my progress!
And just for funsies, I'm linking up here: