Have you seen the price of outdoor pillows lately? Yikes! Talk about a budget buster! We have major renovations going on elsewhere and I wanted to keep my spring decor thrifty, so I'm excited to share this project with you today!
All I used to create these cute little pillows was an old sleeping pillow (seriously pathetic, isn't it? Squished, uncomfortable, unloved...it's perfect for this project!) I found a yard of fabric in my craft stash to use. I made envelope closure pillows using
this tutorial
, the same one I shared earlier this week. I love it because it's so fast and easy! (Seriously, it's just 4 straight seams...you can do it!) I cut the pillow in half, fluffed the stuffing and filled my covers.
And now for the secret weapon: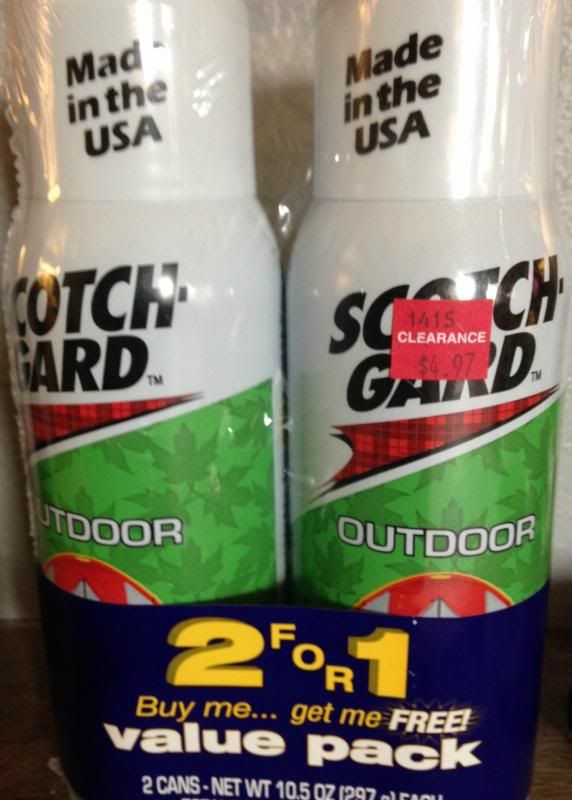 Did you know they make this product? I didn't either, until I saw it at Joann's. Two cans for $4.97? What a steal! I gave the pillows a quick spray and they were ready for the porch! Use in a well ventilated area...it's stinky when wet, but dries quickly. It also doesn't change the look of the fabric at all!
In less than 30 minutes, I had two custom pillows for our front porch and it cost me much less than buying new. Give it a try and add some fun to your porch or patio!