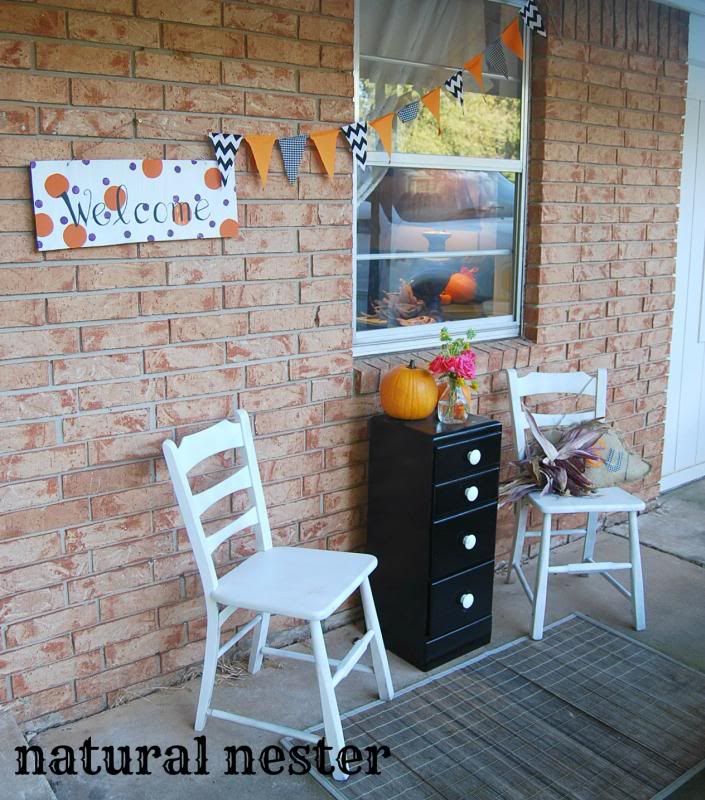 Autumn is here. The mornings are chilly, the leaves are just starting to turn and I'm loving every minute of it. I wanted to update our front porch for the season so I busted out the craft supplies and came up with a few details to set the mood.
The welcome sign is one of my favorite additions to this year's porch. I painted it with white spray paint, then hand-painted "Welcome" and the purple and orange polka dots.
The Indian corn (on the side chair) and pumpkins came from our local pumpkin patch. (Forget Disney...the pumpkin patch is the happiest place on earth!) :)
The wreath is a few years old, but this year I added the bow (made by my Mom...thanks Mom!!) My favorite thing is the huge purple mum. It's gorgeous! It was from my Aunt and Uncle. I never buy these for myself and they were so gracious to bring it as a gift for organizing our family reunion this year. I was blown away by their kindness and love it so much! (Thank you, Auntie Cherri & Uncle Bruce!)
I love the way everything came together and completely on a budget! And better yet, it brings a huge smile to my face every time I see it. So what about you? How are you prepping for Autumn?
xo, April