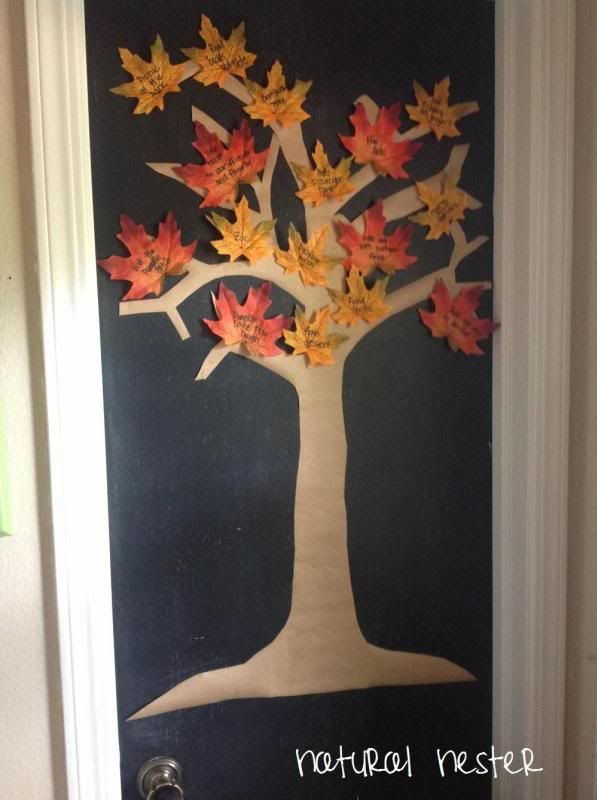 Bucket Lists are so popular nowadays! I made one for summer and decided we needed an updated version for Autumn. But I can't just do a simple printed version...that'd be too easy. ;)
I drew a simple tree design onto brown craft paper and cut it out. Using fabric craft leaves (just $1 for a package of 31!), I wrote down activities for us to do from now until Thanksgiving. Then, it was just a matter of hanging our fun new list up on the chalkboard door in our kitchen! As we complete items, we'll simply move the leaves to the bottom of the tree, so the leaves are "falling" just like outside.
Curious about what's on our list? Here are some of the things we plan to do:
Visit the pumpkin patch
Go on a hayride
Roast hot dogs over a campfire
Play with Pumpkin Spice Play Dough
Make a gratitude tree
Watch the Halloween & Thanksgiving Charlie Brown specials
Feed the ducks at a nearby pond
Visit the zoo
Go on a photo scavenger hunt
Do a leaf rubbing art project
There are several other things too so we're sure to have a fun-filled Autumn together!
xo, April