I've been working on the nursery for the new baby for a few months now, it's just taken me a long time to get it ready to show you! This is a super long post, but I wanted to make sure I show you everything so stick with me!
Come on in! This is the view from the door.
(And for you worriers, relax! She's sleeping in our room the first few weeks, then we'll remove the crib bumpers before putting her in the bed. Safety first!)
The mobile is made from 5 paper lanterns and an embroidery hoop wrapped in fabric. Super easy! The bedding was a lucky yard sale find...it was brand new, never used and in the original package! I loved the soothing colors!
I spent more than I originally planned on the curtains, but they're perfect in this room (plus, I saved everywhere else, so I figured it was ok to splurge a little!) Sweet Hubby and I picked them out at Wal-Mart and they're thermal insulated so they block light and are supposed to help maintain the room temperature. (That should help until we tackle replacing our super-old windows!)
The view from the closet: The glider was a yard sale find and is in fantastic shape. My brother made the pallet bookshelf...isn't it fantastic? I just need to pick out which books to put in there for snuggle time!
This is the $5 yard sale side table before Sweet Hubby attacked it with 2 cans of green spray paint. It was a mess, but now it's lovely and perfect in the room!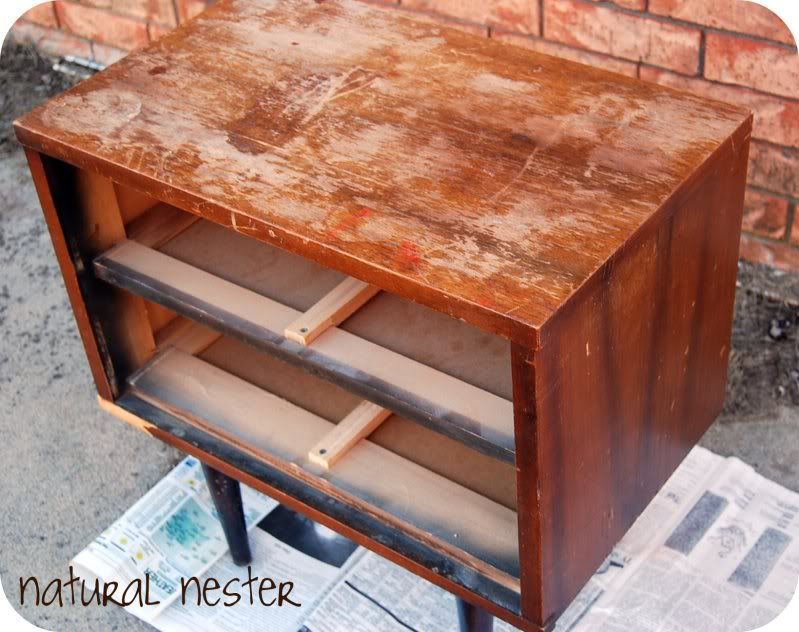 And the side table AFTER. Much better! It holds burp cloths and blankies, keeping necessities close to the chair where I'll nurse our sweet girl! The shelves above (really are hanging straight...I promise!) hold my first pair of shoes and a swan music box gifted from Sweet Hubby's father, Grandpa Sam.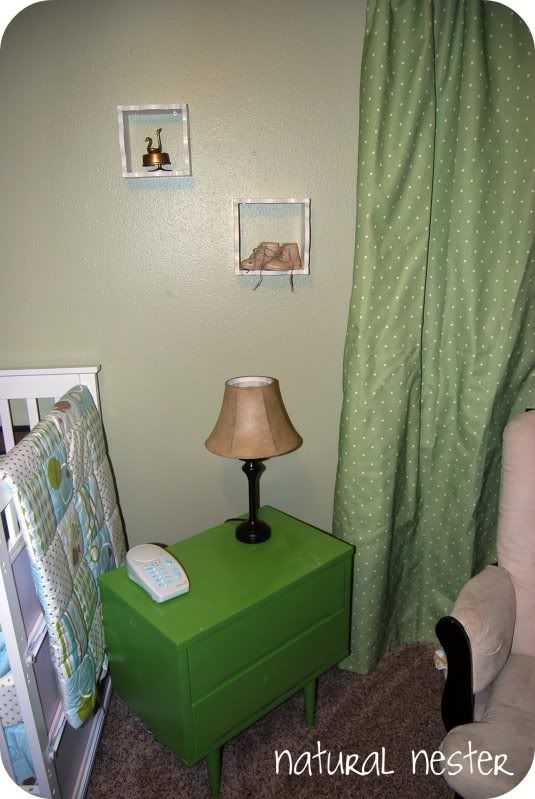 Close up of the Alphabet wall: I found the free alphabet flash cards
here
, printed them on card stock and used a corner-rounder punch. They're hung on yarn with tiny clothespins.
The view from behind the chair: the dresser was a Craigslist find and is the perfect height and size for a changing table. Plus, it adds a TON of storage! The only thing left to do is to hang some sort of curtain over the closet opening, but that's not really a top priority right now. :) The hamper was a shower gift and after having Miss A, I know it'll get a lot of use!

A close up of each shelf: The small shelf above the hamper holds a bird house gifted from my dear friend that hosted my baby shower. Isn't it adorable and perfect for the room? The letter S is just a craft store chipboard letter wrapped in fabric to match the room. The mailbox holds a "letter" to Sophia from her Big Sister, Aleah. :)
The shelf above the changing table: The Dumbo stuffed animal is the first gift we bought last summer when we found out we were pregnant. The mirrored piggy bank was a gift from Gammy and PopPop, the tiny snow globe was a shower gift from another dear friend and the Duck music box was a gift from Grandpa Sam. The frame has a VERY simple printable I made in Photoshop that says "I am fearfully and wonderfully made."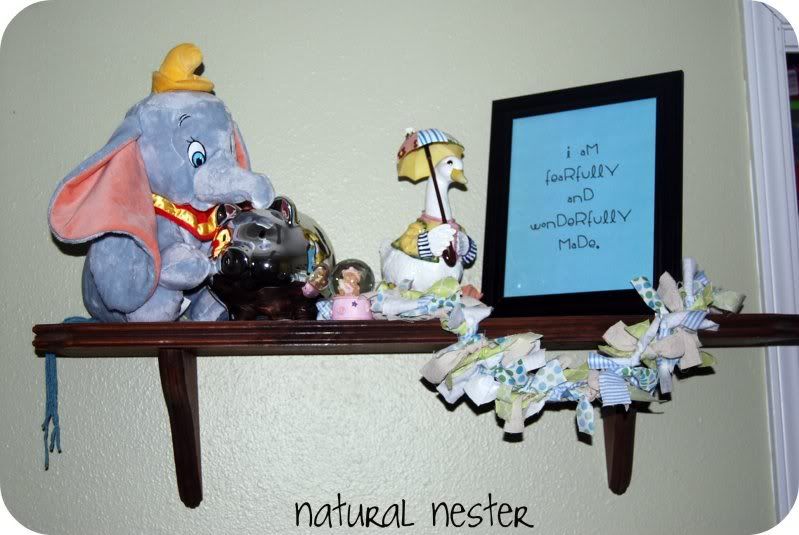 Hope you enjoyed the room tour! That was a lot of pictures for a pretty simple room, but I just love how it came out! And when the overhead light is off and the little lamp is glowing, it's such a peaceful, soothing place to be. I love just sitting in there to read or pray over this precious little one!
PS: I probably won't post again until our Little One arrives (hopefully this week!) so until next time, enjoy your week!
To see some amazing recipes, crafts, decor projects and more, check out these linky parties!