Family Baking Day this year was So. Much. Fun! It always is, of course, but for some reason, this year seemed even more special...maybe because we had two Littles running around and one in my tummy? Whatever the reason, it was wonderful to spend the day with the people I love! I wish I had written down what everyone made (maybe you guys can email me so I can update this post???), but I'll try to remember.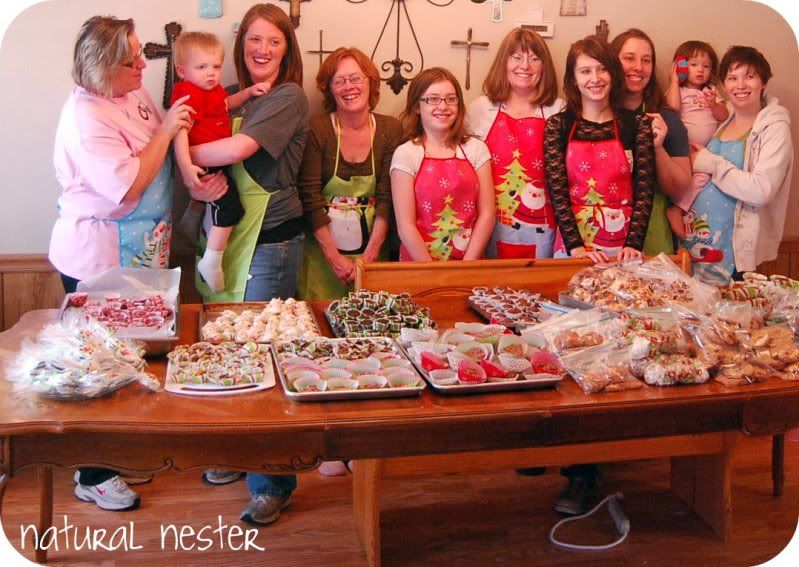 At the end of the day...we should take pictures before we start! Here we are, completely exhausted and at the point of hysterical laughter! Those cute aprons were purchased a few years ago and we reuse them every year.
From left to right: Rhonda (Christy's MIL), Tripp (Christy's son), my cousin Christy, my aunt Cherri, my cousin Jasmine, my Momma Tammy, my cousin Shyla, my aunt Adriene, Miss A and me (with the worst hair day ever! LOL)
Not pictured: All the men (they were snapping pictures!) and my Grandparents (who went home early)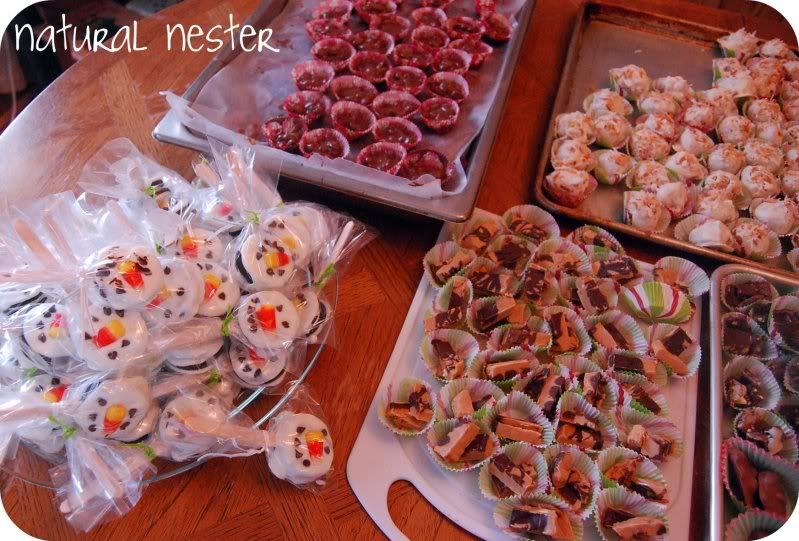 Now for the goodies, clockwise from bottom left:
White Oreo Truffles with Toasted Coconut (Christy, is that right???)
Tiger Candy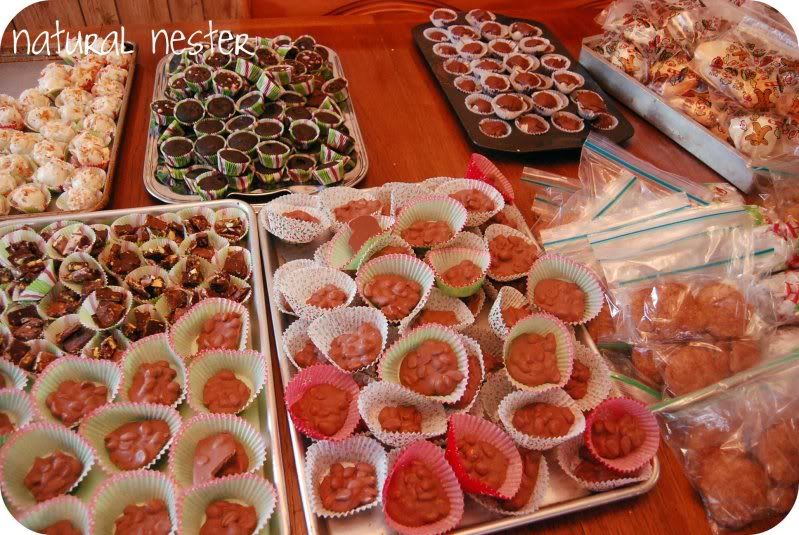 From Top center:
Mint Brownie Bites (made with black beans!)
??? I can't remember what the chocolate topped things in the white liners are...I'll ask Mom.
Almond Angel Food Cake Cookies
Snickerdoodles
Peanut Clusters (a different version than the ones in the first photo)
Chocolate Pistachio Bark
From top left:
The things I can't remember
Almond Angel Food Cake Cookies
Chocolate Coconut Bars
No Bake Cookies
Best Ever Chocolate Chip Cookies
Puppy Chow
Snickerdoodles
Peanut Clusters
Sorry if that was confusing! All said, we ended up with 14 different items. Everyone went home with lots of goodies to eat and share with friends and family...and hurting sides from so much laughter!