Obviously, I have an obsession with having a wreath on my pantry door. :) I just can't. Help. Myself. It's the perfect spot to add some seasonal decor and brighten up a drab area. If you've missed the other seasons, click to see the
Spring wreath
and
Autumn wreaths
from the last year. This one will only last through December, but then I have an excuse to craft something wintry in January. I'm all for excuses to craft!
My inspiration came from
The Crafter's File Box
. I used the frame from my
Kite Wreath
, ornaments that didn't make it onto the tree, paint from my stash and a length of feather boa I had saved for a Valentine's craft, so this cost me nothing to make! Judging by my pics, I probably could have used longer boa so that it would hang a little lower, but really, you should have seen my pregnant self up on a ladder trying to hang this thing! I'm sure I could have won money on America's Funniest Videos!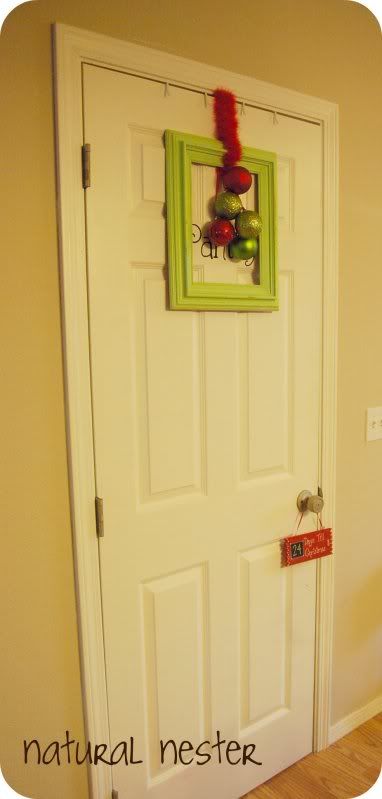 And here is the wreath in her natural habitat. :) Hanging on the door knob is a little wooden plaque I made several years ago that says "Days 'til Christmas" and has a chalkboard square for keeping track. Every. Single. Year. I forgot to update the number of days so it'll be December 23 and it will still say 20 Days Til Christmas. Oh well.
That's it for today....come back next week and I'll show you our Christmas tree, nativity cabinet and a few other areas that have received some holiday love!