Our bathroom had gotten completely out of hand. It was hard to find anything and the cabinet above the toilet was overflowing with stuff of all kinds. I'm getting brave and showing you the before photos, but really this is like showing you a photo of my panty drawer (which I will never do, btw.) I know it's bad...crazy bad. But be nice anyway. : )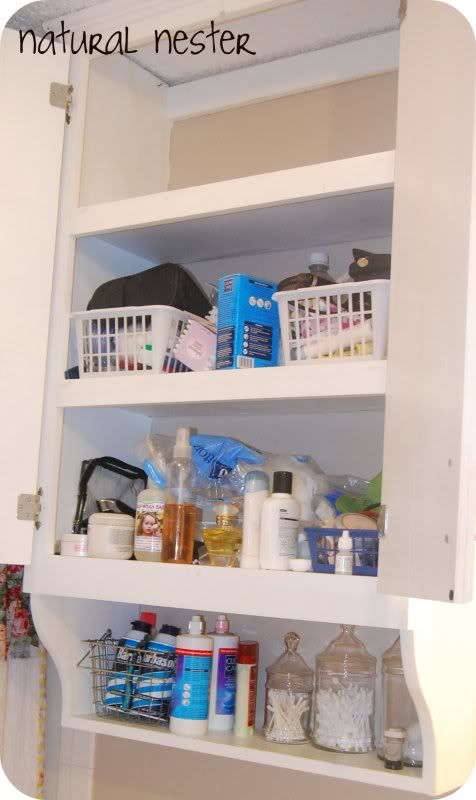 Empty top shelf- Wasted space! Completely disorganized mess on bottom 3 shelves.
I found lots of outdated products and things that needed to be donated or find new homes elsewhere in the house.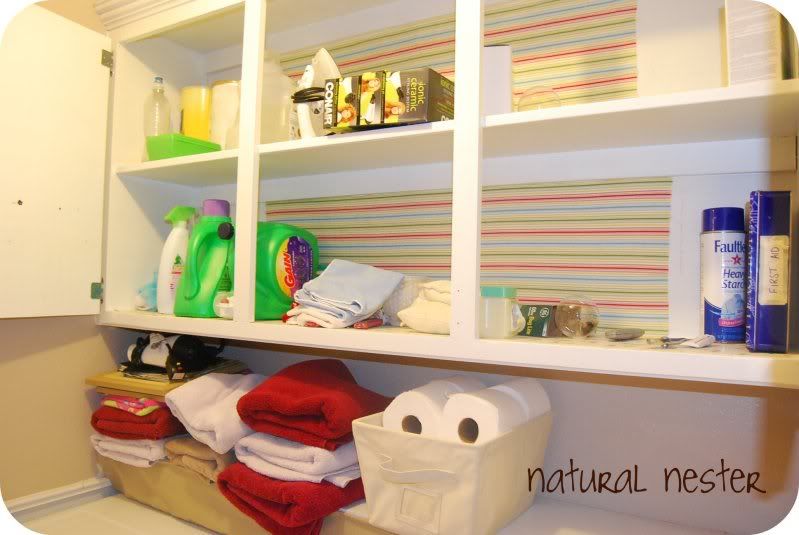 Lots of junk in here too! Burned out light bulbs??? An empty first aid kit, the box from my new blow dryer, empty laundry containers and more.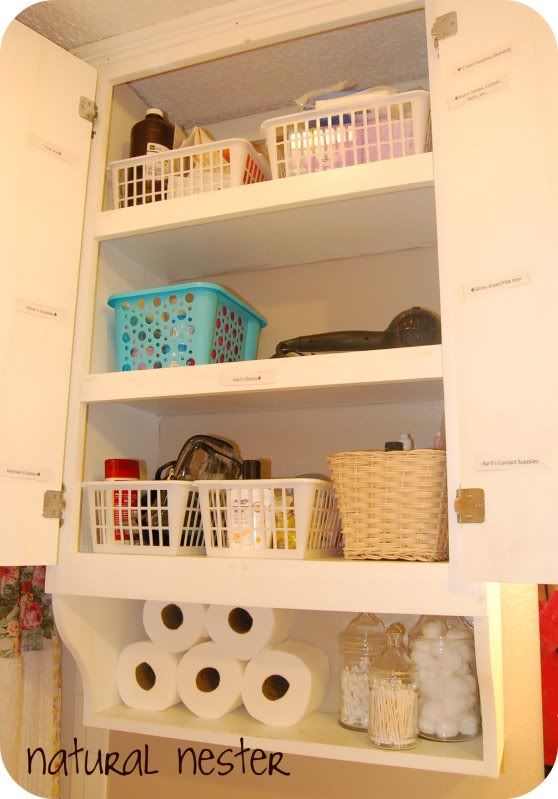 Top shelf, rarely used items: First aid kit; refills for cotton balls, etc.; travel bags and travel size products
Middle Shelf: Miss A's supplies (detangler, combs, nail clippers, etc.); my blow dryer and flat iron
Bottom shelf: Sweet Hubby's supplies (deodorant, shave cream, razors, etc.); my daily supplies (deodorant, perfume/body spray, moisturizer, etc.); supplies for my contacts
All shelves behind the door have attached labels so we (Sweet Hubby...ahem) know where to return things!
Bottom exposed shelf: Extra TP, 3 jars with Miss A's ear swabs, adult ear swabs and cotton balls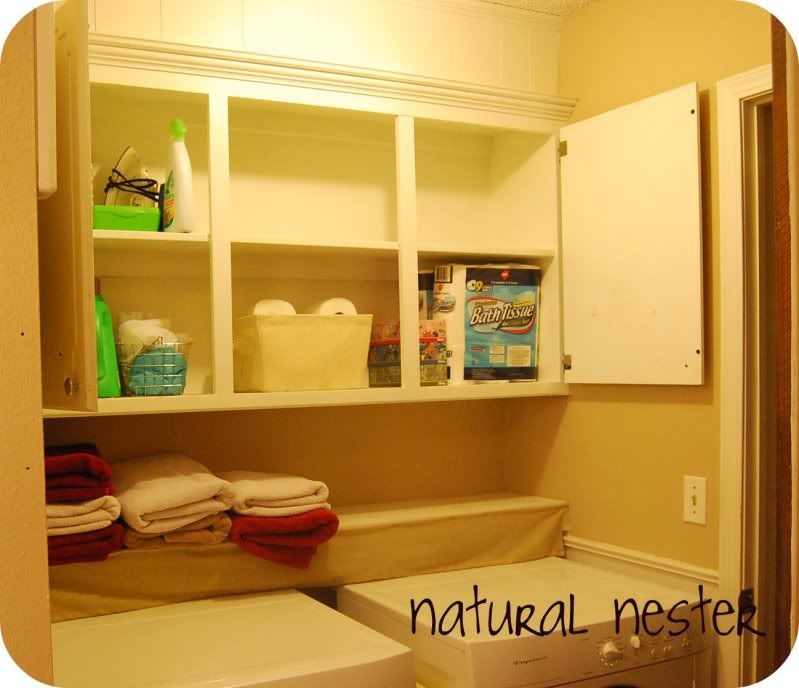 Left side: all laundry supplies (detergent, laundry bags, iron, spray starch, spot remover, etc.)
Middle, exposed section: Basket with extra TP (ours comes 9 to a pkg...too much to go by the toilet)
Right side: Extra TP still in packages and Kleenex
Not pictured is the humidifier and distilled water I keep on the top shelf of the right side. It was in use at the time of this photo. And I hadn't folded laundry, so our towel shelf was almost empty. :)
Also not pictured is the sink cabinet. The drawer holds my make up and our toothbrushes and toothpaste and the cabinets hold wash cloths, hand towels and cleaning supplies.
It's far from glamorous, I know! But it's so functional now and I love that I didn't spend a dime to do this...all the baskets were from around the house so the only cost was my time! After I finish organizing a few more rooms, I'll start on some decorative projects for the bathroom since it looks so neglected! I think some cute signs or something are in order. And I definitely want to make this adorable mason jar storage board!

Until next time,