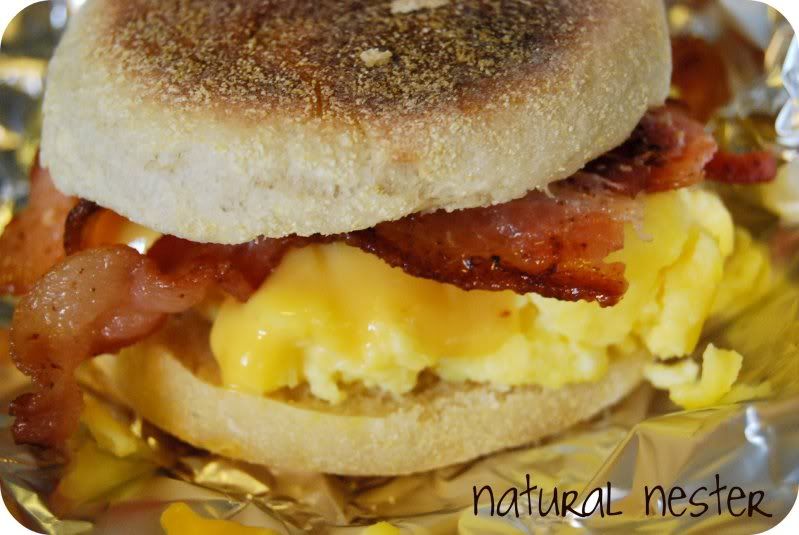 It seems like all I've been doing lately is writing Tummy Time posts, but now that school is out for summer I have time to get in the kitchen! Yahooooo!!! Sometimes we have "breakfast for dinner" and tonight was one of those nights. When I was a little girl, my Mom would make these breakfast sandwiches that I looooved. Sweet Hubby picked up a big bag of English muffins, so I used all of them and put extras in the freezer for go-to breakfasts on busy Sunday mornings. My kitchen is much closer than a drive-through!
12 English muffins
12 eggs
about 1/2 cup milk
Optional: Finely chopped onions, pepper, tomato, etc.
1 tsp. salt
12 slices of cheese of your choice (pepperjack, cheddar, Velveeta, etc.)
Bacon, sausage patties or ham slices
Lightly beat eggs, milk and salt together in a bowl. Pour into a heated skillet (medium heat) and cook, stirring to scramble the eggs. Cook just until eggs are done (eggs should not be dried out.) (Add any optional ingredients that your family likes.) Cook meat of your choice. Toast the English muffins and cut in half. Make sandwiches by layering eggs, meat and cheese. To serve, wrap sandwiches in foil and place on a cookie sheet. Place in a 350 degree oven just until cheese melts.
To freeze, wrap individual sandwiches tightly in plastic wrap and place in a freezer zipper bag. Label bag with name, date and heating instructions. To serve frozen sandwiches, remove plastic wrap and microwave for 30-60 seconds (depending on your microwave) or wrap in foil and place in 350 degree oven for 12-15 minutes.
EDITED TO ADD:
Just for funsies, I decided to figure my cost for these sammies. I used my grocery store receipt (from Wal-Mart). For comparison sake, last Sunday we went through a fast food drivethrough on our way to church. We ordered 2 meals made with similar items to this recipe ;) which came with hash browns and orange juice and an order of pancakes (3 cakes) for Miss A. Our total was just under $15. Here's my cost breakdown for making these at home:
English Muffins $2.12
Eggs $1.40
Cheese $1.25 (guesstimate...I used cheese leftover from another meal and I no longer have that receipt.)
Bacon $5.90 (would be cheaper if I bought on sale.)
Milk 10c ($3.50 per gallon divided by 32 half-cups)
Tax (8.75%) 94c
Total cost for 12 sammies: $11.71
That sure beats going to a fast food place any day!!! Even if I made hash browns at home and added a glass of orange juice, I wouldn't spend more than $3 a person. Sunday morning breakfast dilemma solved!
Buon appetito!