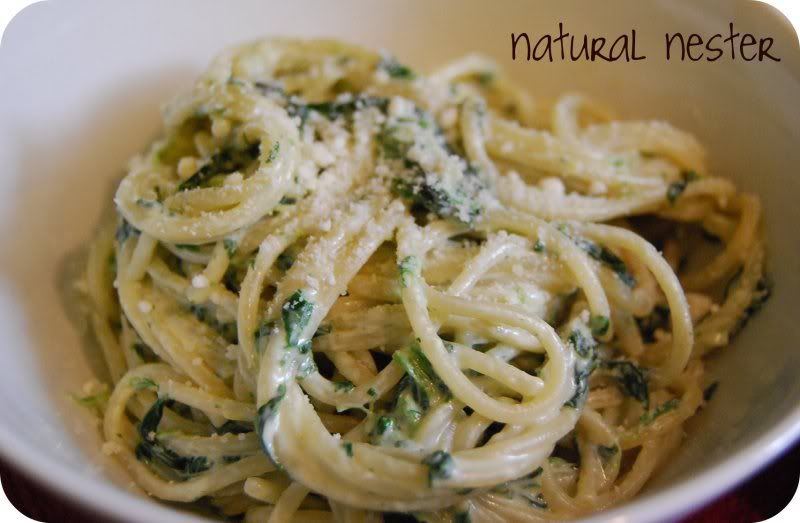 I know, I know...another Tummy Time post? But I just can't help it!! Rest assured, there will be a Gettin' Crafty post by the end of the week, I promise. I'm putting the finishing touches on a little decor makeover and it should be ready to show off tomorrow. Until then, enjoy this recipe for Creamy Spinach Pasta. This is a TNT recipe for me...Tried 'n' True. : ) It's so easy to make, comes together in the time it takes pasta to cook and is easily adjustable to your family's taste buds. We don't usually add chicken, but I have before and it's equally delicious.
2 cups half and half OR heavy whipping cream
1 cup grated Parmesan cheese
2 Tbsp. butter (Please don't use margarine. Please.)
1-9 oz. pkg. frozen spinach
8 oz. pasta (I use whatever I have: fettuccine, thin spaghetti, angel hair, bow ties, etc.)
1 lemon (1 tsp. zest and 1 Tbsp. lemon juice)
1/2 - 1 cup fresh basil, chopped
Additional Parmesan cheese, pine nuts and chopped basil
Optional: roasted chicken pieces
Cook pasta and drain. While pasta cooks, thaw spinach in microwave or under hot water in the sink; squeeze out excess water and set aside. Melt butter in a heavy-bottomed skillet over medium heat; pour in half and half or heavy whipping cream and stir. When cream is lightly bubbling, whisk in grated Parmesan cheese, stirring to combine and breaking up any lumps. Stir over medium heat, just until the cream sauce thickens. Remove from heat. Add spinach, lemon zest, juice and basil to cream sauce. Add hot cooked pasta and toss to combine. Top each serving with pine nuts, additional Parmesan cheese and basil (and chicken, if desired).
Buon appetito!