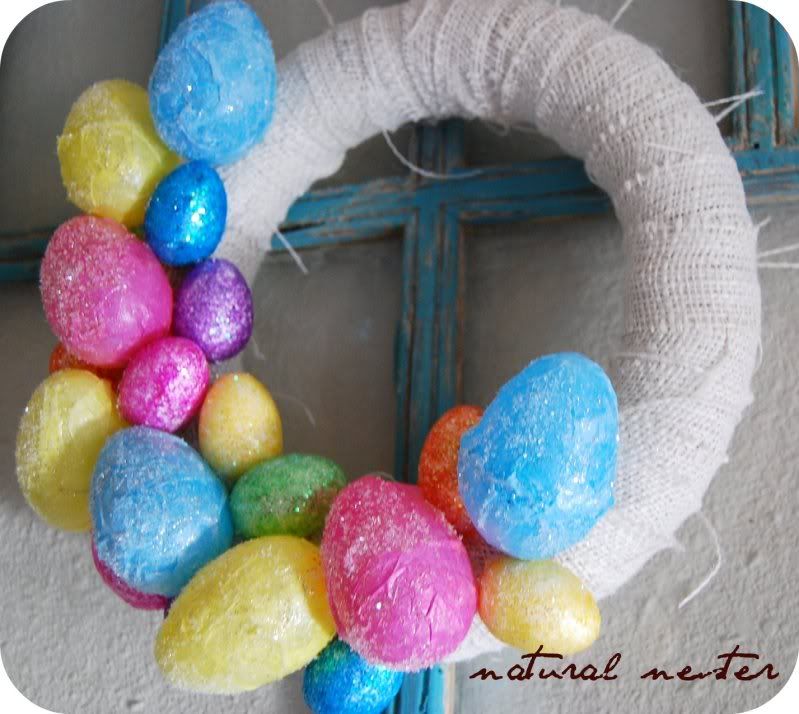 That's right, I just
can't
stay away from here for long! Especially not when I have such a fun (and frugal!) craft to share! It has been a few weeks since I've been able to sit down and really craft something...and for me, crafting is good for the soul.
Truthfully, I don't really decorate for holidays throughout the year. But I love the happy colors of spring, so why don't I decorate for Easter? I guess I don't want to spend a lot of money and I don't want too many decorations to store the rest of the year. So, what's a girl to do?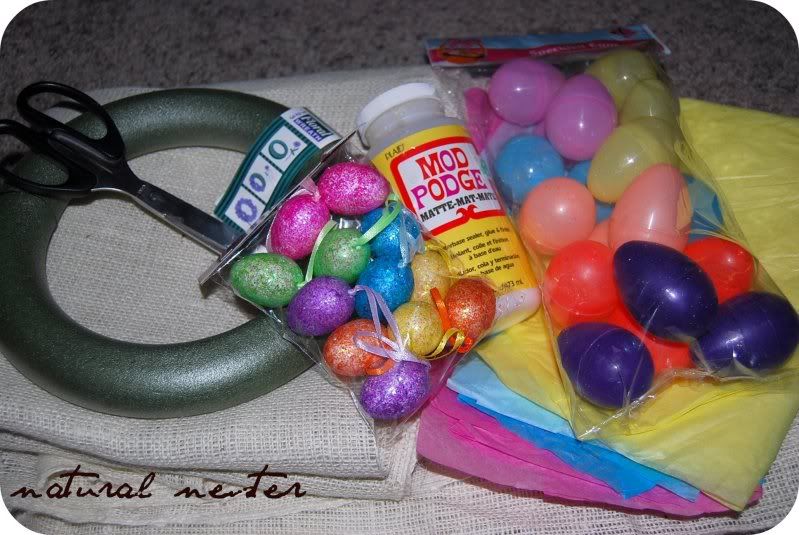 Enter these supplies, stage right: a foam wreath, 1 package regular-size plastic eggs and 1 package of mini-egg ornaments (all from Dollar Tree: total cost $3); small hot glue gun, tissue paper, Mod Podge, bleached burlap and chunky white glitter (all from my stash). This project took all of 2 hours because I kept getting distracted by
The Mentalist
(ah, that Simon Baker!) and
Chopped
.
Distractions notwithstanding, this was SO easy! I wrapped the wreath with strips of burlap and glued in place (leaving all the loose threads). The longest step was modpodging (spell check says that word should be meatpacking! Bahahaha!!) all the large eggs with bits of tissue paper. After those were relatively dry, I hot glued some onto the wreath. I cut the little ribbon ties off the small egg ornaments and glued those to the wreath, too. At this point, I thought it was a little blah so I brushed a little more mod podge on the larger eggs and sprinkled with the white glitter. And tada! All done!
I displayed this little beauty on an old window I have hanging on our living room wall and I love it! In fact, I think a small wreath should hang here every season! (The window isn't really hanging crooked...I was, apparently, standing crooked to take the picture!) Plus, I have enough of the large eggs to do another wreath...maybe I'll finally add something to that etsy shop I set up?
Hope you have a terrific weekend...the weather here is supposed to be beautiful and I intend to get out and enjoy it! Next week is spring break for me (NO SCHOOL!!!!!!!) and I'm going to bask in the beauty of it. :)
I'm linking up to some great parties! If you want more inspiration (of ALL kinds!) click on the buttons below and prepare to be amazed.