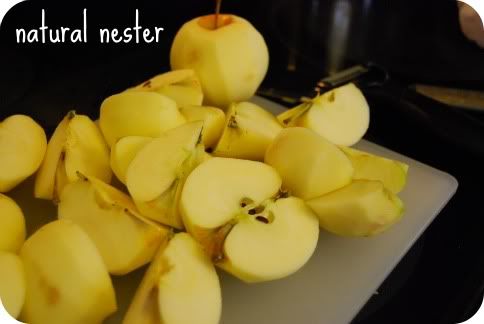 Oh, the Lord's been good to me.
And so I thank the Lord
For giving me the things I need:
The sun, the rain and the appleseed;
Oh, the Lord's been good to me.
Remember that song? No? Well, you can listen to it
here
. So cute! Anyway, that song is not the purpose of this post...no the purpose is to share a new recipe with you for scrumdiddlyumptious (just try to tell me I spelled that wrong!)
homemade applesauce
! This is one of those things I thought would be hard. Why? I have no idea because once again, this is super easy! Miss A loves this stuff and so do I! I'm even going to try it on oatmeal for breakfast. I'm not an oatmeal fan, but this is so good it could change my mind.
(Update: it did not make me fan of oatmeal.) (Update 5/26/11: It has indeed made me an oatmeal fan!! This stuff is a miracle worker!)
Before I share the recipe, here are a few disclaimers/notes/bossy bits:
Pick good apples so that you don't have to add sugar. Click

here

for a list of apple varieties and how to use them. The sweeter the apple, the least amount of sugar you'll have to add (

hopefully

none

!)

You

don't

have to peel the apples. In fact, it'd probably be better for you if you don't (provided you're using organic apples.) However, since I made this primarily for Miss A, they needed to be peeled. She chokes on apple peels...I found out the hard way when I made this in the slowcooker a few weeks ago (see #6).

Use your own judgment on the spices. I used that amount, again because this is for Miss A. If I made it just for myself, I'd probably add more of each one. Ok, I

know

I would more. I'm just feisty like that.

The recipe I had actually called for apple juice instead of water, but I didn't have any. I used filtered water instead.

The recipe also called for 2 Tablespoons of lemon juice. I'm fresh out of lemons (shudder), so I used a pinch of citric acid instead. If you buy citric acid, check to make sure it doesn't have corn, soy or other nasty additives. If you're a local, you can buy a little bottle of citric acid at Nature's Supply for about $5. I'm using this to soak our cut fruit and for recipes like this and so far, it's lasting quite awhile.

I made a different recipe in the slowcooker a few weeks ago and it took

f..o..r..e..v..e..r

to cook (as in 10-12 hours...maybe because I didn't peel them? See #2) but was equally delicious. This is

way faster

!
Ok, enough blabbing...here's the recipe!
Homemade Stovetop Applesauce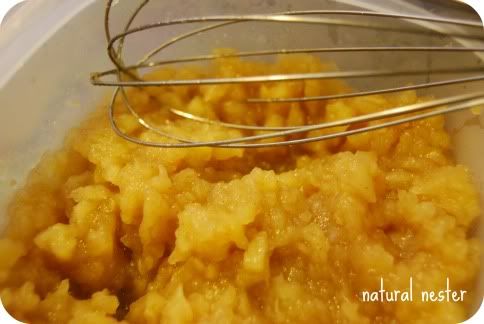 Is it possible to make applesauce look appetizing?
This tastes much better than it looks!
4 cups apples, peeled and cubed
1/4 cup filtered water
1/4 tsp. cinnamon
1/4 tsp. allspice
Pinch of citric acid
Stir ingredients together in a saucepan and place over medium heat. Heat to simmering and cover; simmer for 15-20 minutes or until apples are very tender, stirring occasionally. Remove from heat. Mash with a potato masher; if you prefer completely smooth applesauce, run the apples through your food processor. (I mash it just until the pieces are small enough for Miss A to eat comfortably.) Store in the refrigerator up to 2 weeks, or freeze up to 2 months (maybe longer...it hasn't lasted long enough to try it!)
PS: Thank you for the sweet comments, emails and facebook messages about me being sick. I'm well now...just a nasty bug. But it knocked me flat on my back from Sunday to Tuesday. Yuck!