Sweet Hubby is not a dessert guy. He prefers hot rolls, steak, mashed potatoes...you know, real food. But this time of year, he always requests that I make a pumpkin roll. I have to make at least 2 per year, one for Thanksgiving and one for Christmas. One year I even made one for his birthday. It's easy to make and he loves it!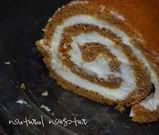 Pumpkin Roll
Cake:
3/4 c. flour
2 tsp. cinnamon
1 tsp. baking powder
1 tsp. ground ginger
1/2 tsp. salt
1/2 tsp. ground nutmeg
3 eggs
1 cup sugar
2/3 cup pureed pumpkin (not pie filling)
1 tsp. lemon juice
1 c. chopped walnuts or pecans
Sifted powdered sugar
Filling:
6 oz. cream cheese, softened
1/4 c. softened butter
1/2 tsp. vanilla
1 c. powdered sugar, sifted
Prepare towel:
Select a clean, cotton dishtowel. Do not use terry cloth....flour sack towels or towels with the least amount of texture are best. Slightly dampen towel and lay flat on counter. Dust with sifted powdered sugar.
Cake:
Sift dry ingredients. In a separate bowl, beat eggs until thick and lemon colored. Beat in granulated sugar. Add pumpkin and lemon juice. Slowly beat in dry ingredients. Pour into a well-greased and floured jelly roll pan. Bake at 350 degrees for 10-15 minutes or until cake pulls away from the edges of the pan and toothpick inserted in center comes out clean. Loosen edges of cake with an offset spatula. Invert onto prepared towel. From one of the short sides, roll the cake up in the towel. Let cool completely.
Prepare filling and assemble:
Beat cream cheese, butter and vanilla in a bowl. Slowly beat in sifted powdered sugar, making sure there are no lumps. Unroll cake and spread with filling. Sprinkle with chopped nuts. Gently roll cake up from short side, removing from the towel as you go. Remove cake to a serving platter. Dust with additional powdered sugar.
Enjoy!