To prepare our hearts to welcome the Lord...we must learn
to recognize his presence in the events of daily life.
Advent is then, a period of intense training that directs us decisively to the One who has already come,
who will come and who continuously comes.
Pope John Paul II
This year our church
Mosaic Community
is observing Advent. I was so excited to hear this because last year I was introduced to Advent through a few of the blogs I read. I loved the idea of using the weeks leading up to Christmas to focus on Christ, not on everything the media crams down our throats. I know I've said this before, but this is my favorite time of year. Sadly, many years I've arrived at December 26th and felt like I missed it, that somehow with everything else going on, I missed the moments to stop and remember, to meditate on Christ. I believe that, for our family, observing Advent will help to alleviate that problem and make this time of year more spiritually significant.
To help our little family of three celebrate, these are the books I'm using to guide our observance: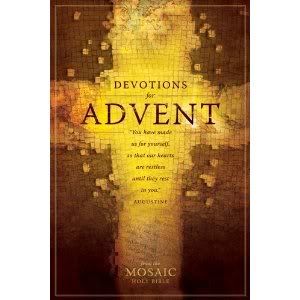 Devotions for Advent
It's only a coincidence that this book uses passages from the Mosaic Holy Bible (I didn't know there was such a translation!) I love this little book. It tucks into my purse and I carry it around to read when waiting in the car, the doctor's office, in line at the grocery store, etc. It has one reading in the book per week, plus suggested scripture passages and quotes about Advent.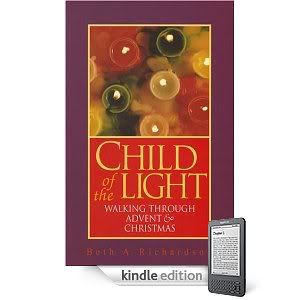 Child of the Light: Walking through Advent & Christmas
This book has readings for each day throughout Advent, broken up into a devotional section, plus Reflections and Prayers. Each week uses a hymn as a guide and breaks the hymn up into pieces to focus on throughout the week.
a Family Advent
I have a feeling this book will be important to us as Miss A grows. It provides week-by-week and day-by-day readings and activities to do as a family and is chock-full of scripture readings and written prayers. It also includes little tidbits of Christmas history.
I hope you'll take some time out of the mad rush of the holidays to focus on what truly matters and to prepare for the Awaiting or Advent of our Savior.