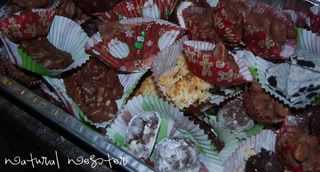 Family Baking Day.
I look forward to this day all. year. long. It's one of the few times throughout the year that the ladies of my family get together. This year included my Mom, Aunt Cherri, Aunt Tracy and Aunt Adriene, and my cousins Momma Christy, Miss J, Miss S and Miss Shy. Rhonda, Momma Christy's mom-in-law also joined us. And of course, Miss A and Mr. T, Momma Christy's little guy. The kitchen was abuzz with chatter and laughter and the living room was full of our hubbies, taking naps, watching football and playing with the babies. It was a very full house!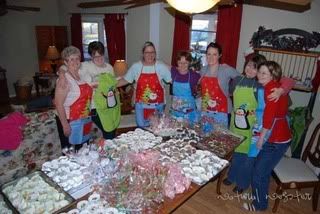 I can't even remember everything we made, but I'll try. If I can't remember the name I'll describe it: Snickerdoodles, Rice Krispy Treats, Crockpot Peanut Clusters, Peanut Butter Brittle Clusters, S'more Bites, Pretzel Rods, White Dipped Pretzels, Haystacks, Chocolate Crinkles, Lace Cookies, Puppy Chow, Chocolate Coconut Pyramids, Cookies 'n' Creme Bark, Peppermint Bark, Marble Bark and Pecan Chocolate Bark. There may have been more, but I don't remember. It's always INSANE and we always make waaaay too much stuff! But it's so much fun to have
everyone together
, laughing, talking, hugging. I forgot my camera (forehead slap) so here's a pic from last year.
If you're interested in hosting an event like this in your family, here's how we do it. Everyone chooses 1-3 items they want to make and they bring all the ingredients and supplies they need for them to the hostess' house. We all make our goodies together,
helping each other
. As items are made, they're put into baggies or cupcake liners. We bought ours at the after-Christmas sales last year. At the end of the day, we put all the goodies on the table and everyone fills their box. We bought cheap 9x13 cake pans with lids at the dollar store for everyone. We go around the table filling our box until everything is gone. It's simple as that! The top pic is a closeup of some of the items in my box. We also filled Wal-Mart sacks with the things that were bagged up. Like I said, it's
ridiculous
how many treats there are!!
The day also included lunch. This year 3 of us made soup in crockpots and let it simmer all morning. There was also a fantastic salad and some other sides, including crusty french bread made by our resident bread expert, Aunt Cherri.
So, what did I make? I did dipped pretzel rods and s'more bites. I don't like s'mores, but my cousins Miss S and Miss J do, so I chose that recipe with them in mind. They were super easy and I got the recipe in an email. It must have been from one of those kitchen gadget companies because the instructions were like, "Using the (insert trade name) mini-cupcake tin blah-blah-blah." Silliness, if you ask me. So, here's my simpler recipe. I didn't get a picture of them, but they were pretty cute.
7 whole graham crackers, finely crushed
1/4 cup powdered sugar
6 tbsp butter, melted
4 Hershey chocolate bars, divided
12 large marshmallows
Preheat oven to 350°F. Place graham crackers into a large resealable plastic bag. Finely crush into crumbs. Combine graham cracker crumbs, powdered sugar and butter in a small bowl. Place scant scoop of crumb mixture in each cup of a mini-muffin pan lined with mini-muffin paper cups. Press crumbs to form shallow cups. Bake 4-5 minutes or until edges are bubbling. Meanwhile, break two of the candy bars into rectangles. Remove pan from oven; place one rectangle into each cup.
Cut marshmallows in half crosswise using kitchen shears or a sharp knife. Place one marshmallow half, cut-side down, into each cup on top of chocolate bar. Return to oven 1-2 minutes or until marshmallows are just slightly softened. Remove from oven; cool 15 minutes. Carefully remove cups from pan. Cool completely.
Break remaining candy bars and place in small bowl. Microwave on HIGH 1 minute or until melted and smooth, stirring every 20 seconds. Dip the top of each marshmallow in melted chocolate. Turn top-side up and let stand until set.
Makes 24 bites
Buon appetito!