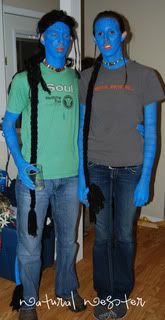 Ok, so it's not as bad as the post title sounds...I'm
not
hung over, but let me tell you, this Momma isn't used to staying up until midnight! But oh was it worth it! Last night was the first costume party we've ever hosted (or attended for that matter) and it was SO much fun! We were joined by over 40 of our friends and family and I think every person was in some sort of costume! If we had prizes for the best costumes, hands down it would have been our sweet friends Billy and Anna. They worked
SO
hard to get the look just right and I thought it was amazing! Since it was a family party, they refrained from wearing loin cloths, much to our appreciation. :)

I cohosted this party with a dear friend, Richelle. She is such a doll and so much fun! We decided early on that we would have a chili cook-off. There were 9 entries altogether Everyone had to give their chili a name so we ended up with:
Dante's Inferno, Normal, Second Best, Miracle Max Special, Just Chili, White Lightning, Cheapest Gas in Town, Blazing Deer, and Interesting Concoction
. Everyone received round cardstock circles for voting; to vote, you dropped your coin into numbered cups beside the slowcooker. Richelle and I counted the coins and announced the winners. Richelle's husband Jason had some great ideas for trophies and we made them in advance. The winners were:
Gastastic 3rd Place: White Lightning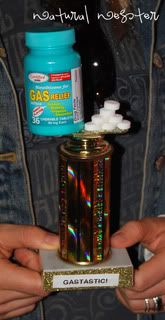 Feel the Burn 2nd Place: Cheapest Gas in Town
Party Pooper 1st Place: Blazing Deer
I had hoped to have an amazing chili recipe to share with you this week, but alas, my chili was
TERRIBLE
. I found a recipe in my cookbook and tried it, but ohmuhgoodness was it bad!! Award winner? Yeah, worst chili EVER award! Usually, I change up recipes, leaving out things I think sound weird, adding more of what I like. But this time, I followed it exactly as written, thinking that since I'm not good at chili, I should trust the author.
When I got to the part where it said to add
cinnamon
(yep, cinnamon!) I had second thoughts, but talked myself out of leaving it out. My husband, who will pretty much eat anything I give him thought it was awful. Truthfully, my chili existed just so others would get more votes. It would have made terrific paving material...I could probably sell it to the county for road improvements, but alas we threw the excess away. It will probably burn a hole in the bottom of our garbage pail by morning. Trash Collectors, consider this fair warning: bring your haz mat suit.
Other than the chili being a horrendous failure, the party was HUGE success...we had so much fun and can't wait to do it again next year! I'll be back Monday with the recipe for some outstanding jalapeno cornbread...yum yum!!!