So many people are nervous about entertaining, but it doesn't have to complicated or stressful...in fact, it can be one of the most enjoyable things you do for friends, if you find a system that works for you. No guest wants their host or hostess to be stressed out, so today I'm sharing a few of the things I do to make hosting events more enjoyable for myself AND my guests!
Tip #1: Plan your serving dishes ahead of time.
For
our parents' anniversary party
, we were having a buffet and it was imperative that I have enough serving dishes for everything. The night before the party, I laid everything out on the counter (some were mine, some were borrowed) and labeled each dish. When it came time to plate the food, we knew exactly what went where and plating food went quickly!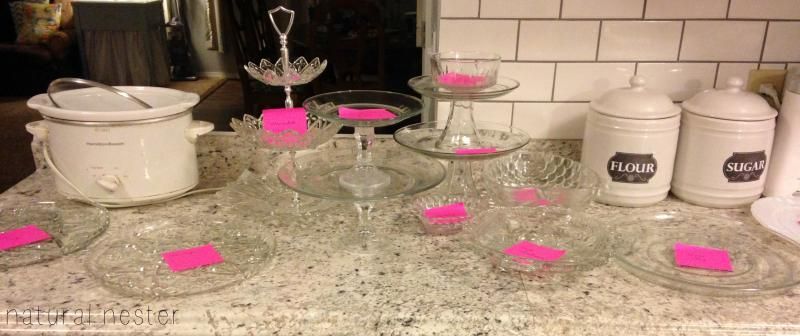 Tip #2: Choose foods that can be made ahead.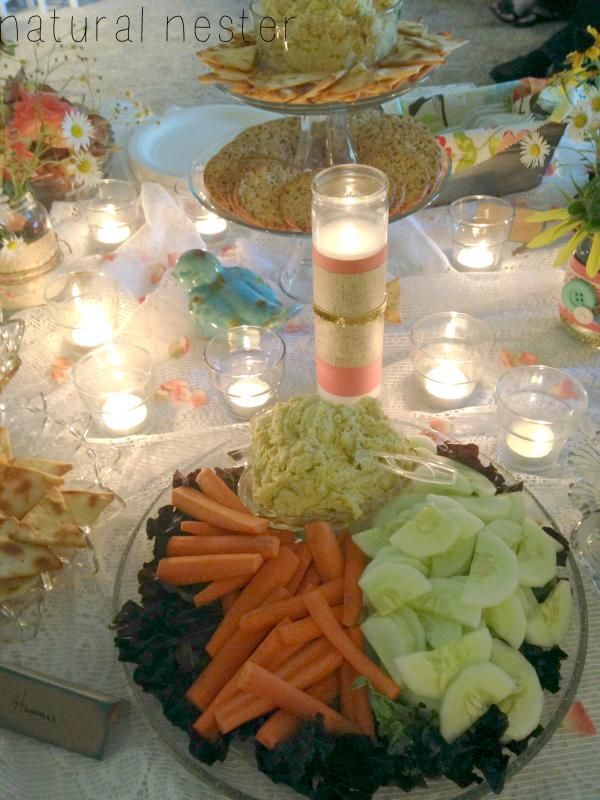 For the appetizer buffet, we chose recipes that could be prepared the day before with minimal last minute prep. Below is a table that shows how the work was divided over two days. In many cases, the only thing to do was to plate the items for the buffet! These also happened to be "easy to eat" and were perfect for our relaxed gathering.

Oh, and make sure you have plenty of room in your refrigerator for all the things that need refrigeration! We had to do last minute rearranging to fit everything! Oops!
·

Slice fresh mozzarella and assemble skewers




·

Slice kielbasa and assemble skewers

Hummus with Vegetables and Crackers




·

Mix up lemon-dill cream

·

Dollop cream onto sliced cucumbers

·

Cube cheese; cover with marinade and refrigerate overnight




·

Mix up dry ranch dressing mix

·

Clean mushrooms and place in slow cooker

·

Add butter and dry ranch mix to slowcooker

·

Cook on low for 3 hours

-Drain pickles, olives and peppers
Tip #3: Draw on your sense of style.
Look around your home. What's your signature style? Is it modern, funky, classic, rustic? If you stick with that, it will be easier to entertain because it will feel natural to you. It won't be too far outside your comfort zone. You will also be able to utilize things you already own.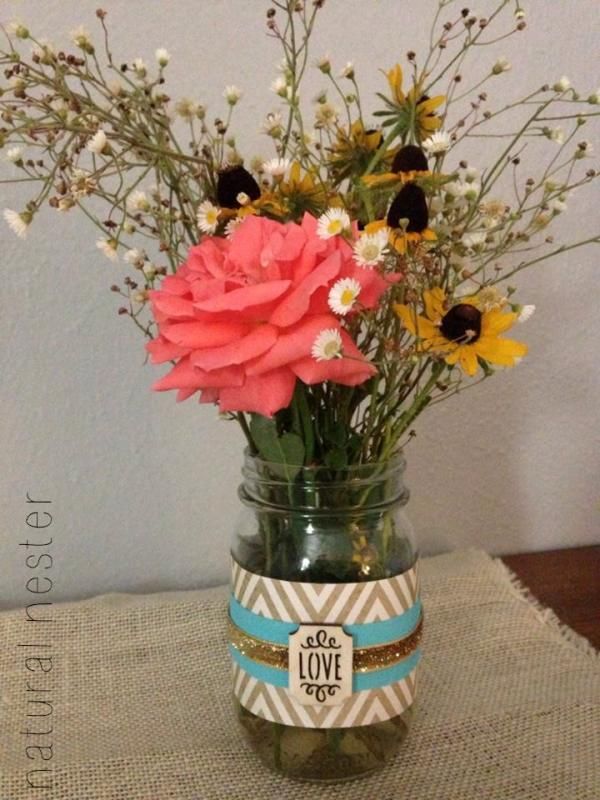 Events I host always include a mix of rustic and elegant elements and handcrafted details because that's my signature style. So, when it's time to decorate for a party, I "shop my home" first, saving me time and money! The flower arrangement above is the perfect example. I own lots of mason jars and adding a bit of pretty scrapbook paper, glittery gold ribbon and wildflowers fits with my signature style.
I hope these tips encourage you to open up your home and invite others in! Remember, even if it's just a simple gathering of friends over an easy dinner, entertaining is a privilege and sacred time to share with one another.