This recipe has been in my family for several years. I can't remember where it came from, but it is so delicious! The cake is moist, the nut topping gets slightly crunchy in the oven and the chocolate drizzle adds just enough decadence. Serve it up for Christmas breakfast, a brunch, a baby shower or even afternoon tea. Alongside a cup of coffee or my favorite, TAZO "Joy" blend, it's the perfect wintertime treat and always gets rave reviews! I've even made one recipe and divided it into smaller pans and wrapped it up as Christmas treat gifts.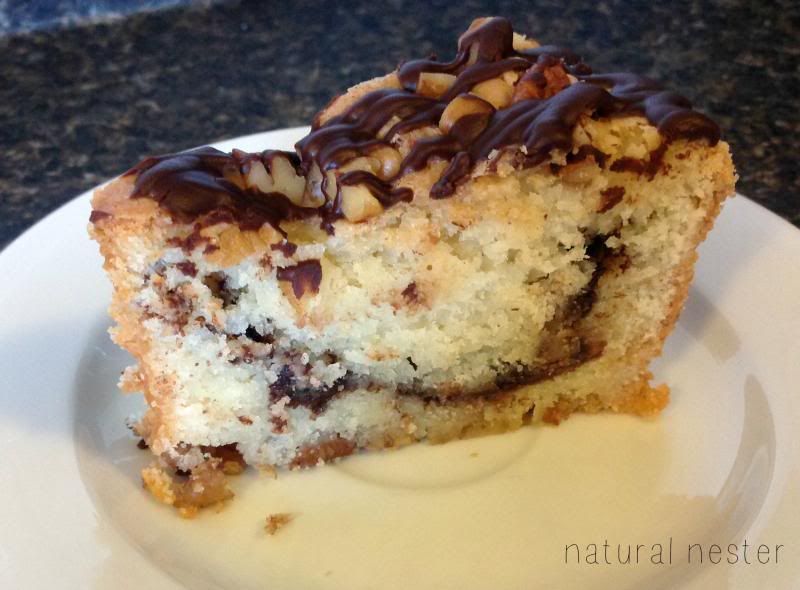 Chocolate Sour Cream Coffee Cake
Yield: 16 servings
Cake:
1 cup butter, softened
2 cups sugar
2 eggs
2 cups all-purpose flour
1-1/2 tsp. baking powder
1/2 tsp. salt
1 cup sour cream
1/2 tsp. vanilla extract
Topping:
1 cup chopped nuts (pecans or walnuts)
2 Tbsp. sugar
Chocolate glaze:
1/2 cup semi-sweet chocolate chips
1/4 cup butter
Preheat oven to 350 degrees. Grease and flour a 9-inch tube pan and set aside. For cake, cream butter and sugar in a large bowl until fluffy. Add eggs, beating until smooth. In a medium bowl, combine flour, baking powder and salt. Gradually add dry ingredients to creamed mixture, blending well. Gently fold in sour cream and vanilla. (Cake batter will be very thick with a consistency more like cookie dough.)
For topping, combine chopped nuts and sugar in a small bowl. For glaze, melt chocolate chips and butter in small bowl in microwave 15 seconds at a time, stirring until smooth.
Sprinkle 2 Tbsp. of nut topping in bottom of prepared pan. Spoon half of the cake batter into the pan, spreading to cover nut topping. Sprinkle 4 Tbsp. nut topping over batter in the pan, and then drizzle with half of chocolate glaze. Spoon remaining batter into pan, spreading to cover nut topping and drizzle; sprinkle with remaining topping. Reserve remaining glaze. Bake 1 to 1-1/4 hours or until toothpick inserted in center of cake comes out clean. Cool in pan. Transfer to serving plate. Reheat remaining glaze and drizzle over the cake.
Buon appetito!