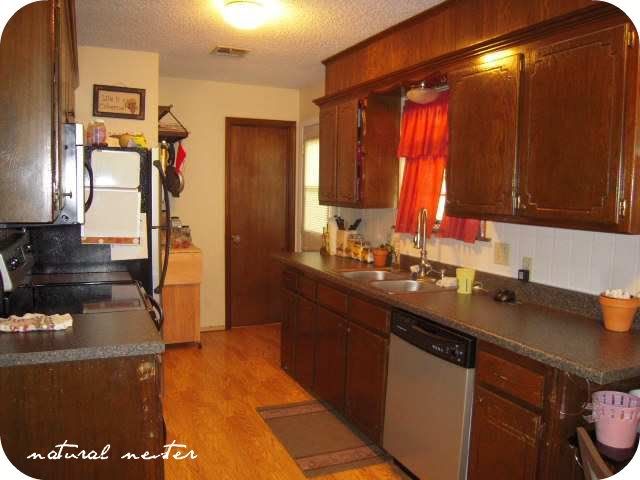 When we took our first tour of this house, the kitchen looked like this (photo from our realtor). It felt like a
cave
...dark stained, dated cabinets (and the heavy orange curtains didn't help!) I don't have any close ups, but the stain was applied so thick that there were major drip marks. Rather than replace them (they're solid wood and still in great shape) we decided to paint them.
I did some research and stumbled on
Edie's kitchen
. Oh my, I'm in love. But Sweet Hubby would never let me paint the cabinets turquoise, no matter how much begging I did or how pregnant I was. So, we compromised...I could choose two different colors as long as one of them was white and the other one was black. :) See how good we work together?

It's been well over a year since we did this project, so I can't remember the details (what type of paint, etc.) but I know all the supplies came from Lowes (I can pull the paint cans out of the closet if you really must know). And since this post could easily get too long, here are the bullet points:
I covered the back walls of the cabinets with fabric using spray starch. Instant color and pattern for very little money or time!

The chalkboard door at the end (which opens to our master bedroom half bath...weird, I know) is one of my favorite features now. I just did it a few weeks ago, but I love it! (I had to cover up Miss A's real name using my mad Microsoft Paint skills. Can I get a

woot woot

?)

The wire grocery cart at the end of the kitchen usually has a white cotton liner (it's in the laundry right now). It acts as our laundry hamper for dish towels, bibs, etc.

The picnic basket on top of the refrigerator holds tea towels embroidered by my great-grandmother. I'd love to display them, but I'm not sure how.
There are still some things we need to do in here: paint the trim white to match the rest of the house, install new bottom trim because some is missing, replace the light fixtures, etc. I haven't really done much decorating in here because I haven't decided how to proceed. Okay, enough talk....
on with the pictures!!!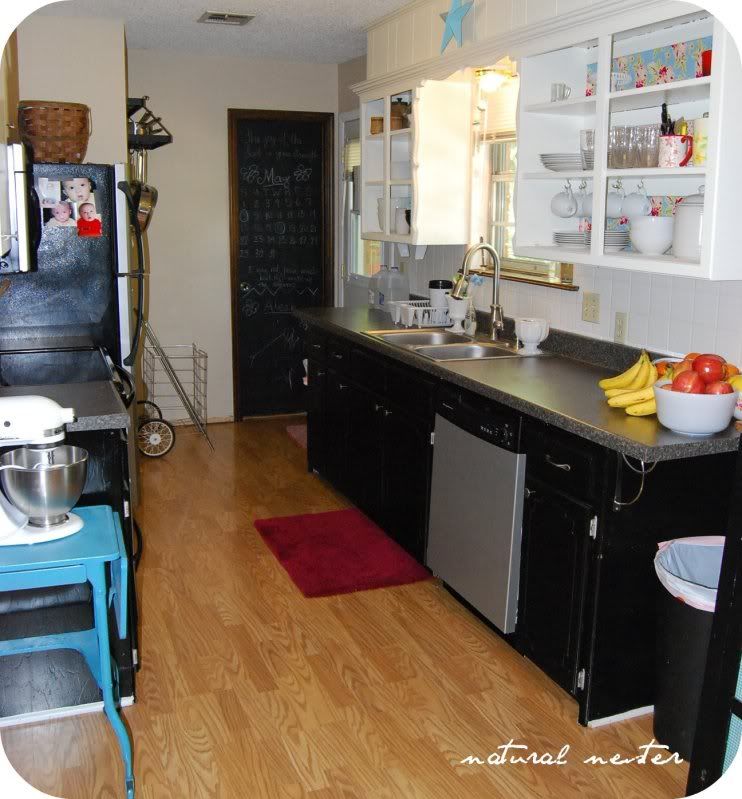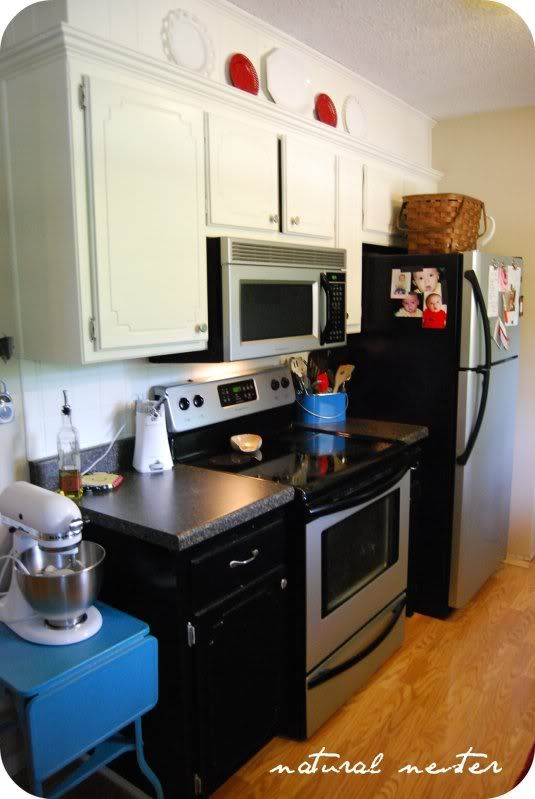 And one more, side by side: