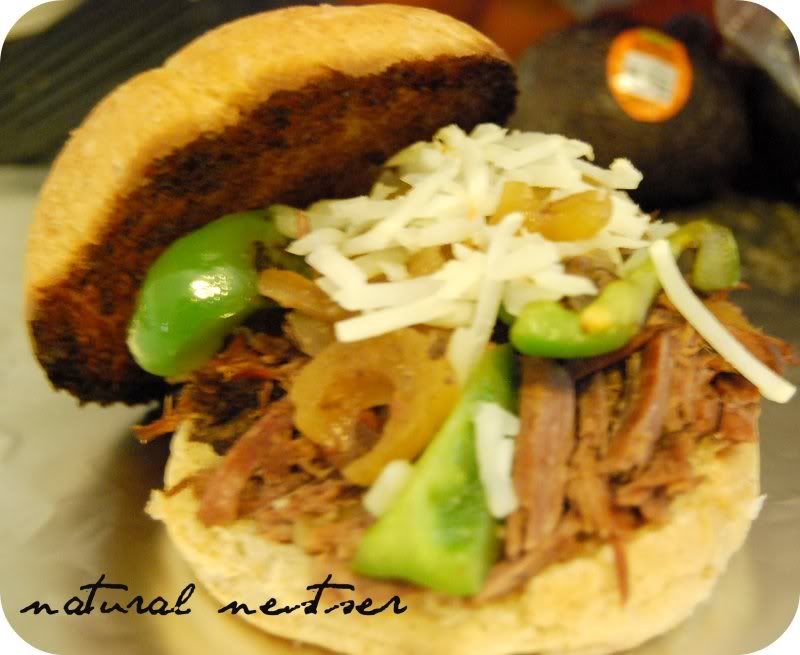 While perusing all the fantastic crafts, parties and recipes over at Skip to My Lou's
Made by You Monday
, I saw this recipe for
Slow Cooker Beef Dip Sandwiches
. Let me set the scene...it was 9:45 on a Monday night. My usual bedtime is 10pm. But oh goodness, those sandwiches looked so yummy! Tuesday is one of my days to take lunch to the Grands, so I decided to make these. Right then. Yep, that's how the ride on the insanity wagon goes.
I used the recipe more as a guideline, since I didn't have everything it called for and they still came out really good. (Crazy photos...flash, no flash, I still can't take a good picture!!)
4-lb. beef roast
2 onions, thinly sliced
26 oz. carton of beef stock
1 tsp. dried thyme
Dried parsley
2 cloves minced garlic
Freshly ground black pepper
Sea salt or Seasoned salt (I used a bit of both)
Mozzarella cheese
Green bell pepper, thinly sliced (As you can see in the photo, mine are too thick.)
Sandwich buns or sub rolls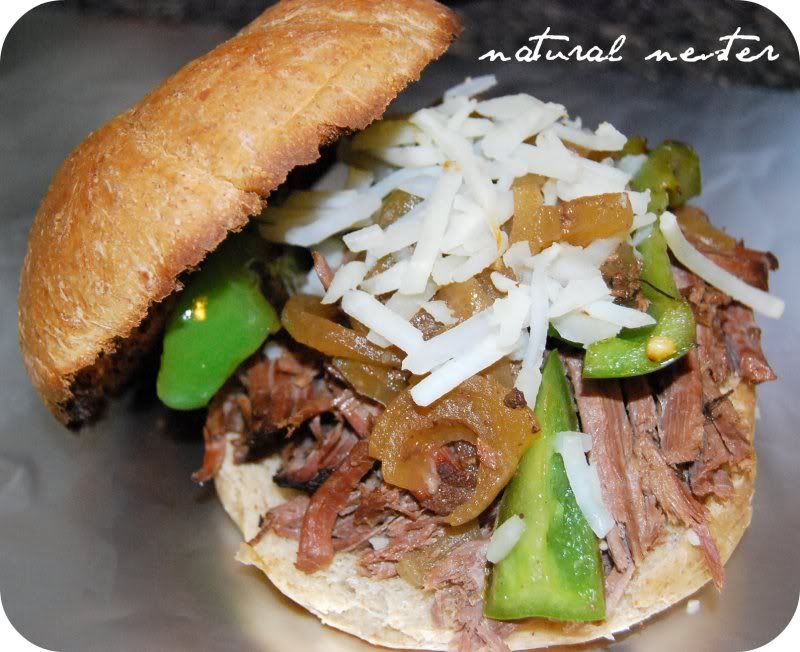 In the slowcooker, combine beef stock and seasonings. Add the slices of one onion and the roast. Top the roast with remaining onion slices. Cook on low for 12-14 hours.* About thirty minutes before you want to serve the sandwiches, place thinly sliced green bell pepper in a skillet with olive oil and saute just until tender. Remove roast to a plate and shred. Slice bread in half lengthwise and top with shredded beef. Use a slotted spoon to remove onions from the slowcooker and add to the sandwiches, along with green pepper. Top with cheese and place under the broiler for <5 minutes, just until the cheese is melty and the bread is toasted, watching closely. (Next time, I'll wrap them in foil and put in a 375 degree oven for 10-15 minutes instead, but I was in a hurry.) Serve sandwiches alongside bowls of the dipping sauce (strained stock mixture from the slowcooker.)
*Since I decided to do these at the last minute, I put my frozen roast directly into the slowcooker and let it cook all night. It cooked from 10pm-8am on low, then 8am-11:30am on high. The meat was oh-so-tender and delicious!!!
Buon appetito!