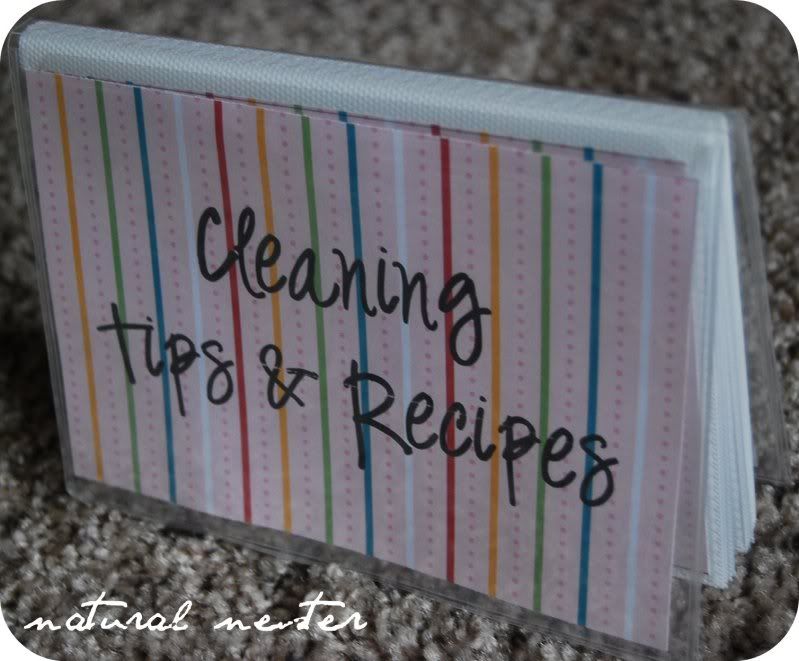 This weekend, I made a little recipe book of my cleaning recipes. This was also in preparation for the class I'm teaching on Tuesday and I hope the gals will find it a useful little tip. I even have the file saved on my computer as .pdf so I can send it via email to those gals so they can create their own recipe book!
It was so simple...the most time-consuming part was formatting all the recipes into the Microsoft table. Once everything was in and I knew it would fit, I printed it out on plain computer paper, cut it out and slid each page in the pockets of a 4x6 photo album. I printed the cover page and each section header page on scrapbook paper, to add a little color and fun. Why should cleaning be boring? The photo album was only $2 at Target (I heard you can get them for $1 at Wal-Mart though!) And if you already have some lying around the house, even better!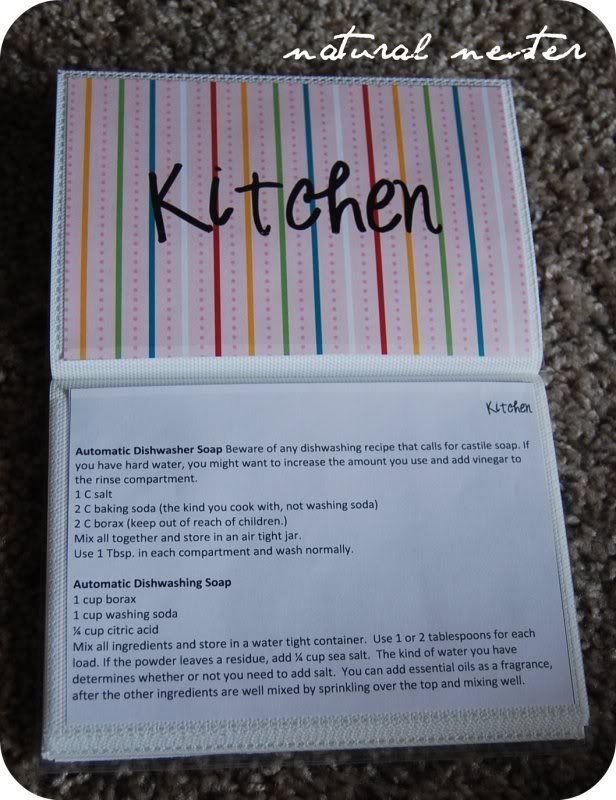 The book has 6 sections: All Around the House (these are general, all-purpose recipes), Kitchen, Bathrooms, Bedrooms, Laundry and Alphabetic Tips. The tips section has things that don't necessarily fit in the other categories or aren't recipes. It's actually a table with 2 columns; the left column lists Traditional Methods/Storebought Products and the right column is the natural alternative for those. For instance, one of the items is "Adhesive Remover" (think Goo-Gone.) Instead of that, you can use either a bit of cooking oil or orange essential oil (launder clothing immediately if you use the essential oil.) Now if I have an issue, I can go immediately to this section and see if I have a solution already listed.
And when I need to mix up another cleaner, my recipes are right at my fingertips and I don't have to worry about splashing vinegar or whatever on them. If I do, it'll just wipe off the plastic...easy peasy! BTW, I have a great idea for using these cheap little photo albums to organize my cooking recipes/menu plans for lunch and dinner, too! I'm working on that now and will hopefully be able to show you later in the week.