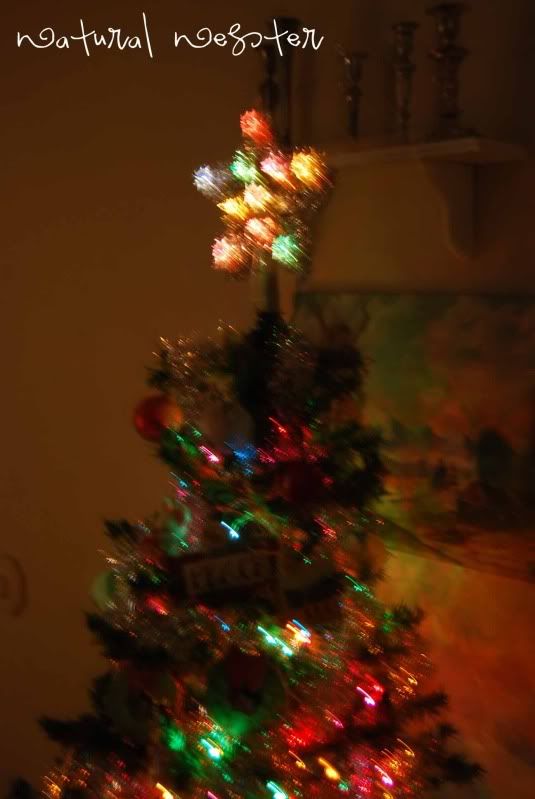 It's the most wonderful time of the year! (Can you hear the song in your head? Good...now we can continue!) Normally, I decorate for Christmas on Black Friday. Who wants to fight crowds to save a few dollars when I can unpack ornaments and lights and make the house beautiful and festive instead? I apologize for the terrible photos...do you know how difficult it is to get good pics of a Christmas tree?
This year I put up two trees. One is a tabletop tree that I lovingly refer to as the retro tree. It's decorated like the tree we put up when I was a child...colored lights, a blinking star topper and an assortment of ornaments, including some made by my brothers and myself when we were kids. I love unpacking the decorations for this tree every year, unwrapping each one and reliving the memories. My favorite ornament though, is the little gold church. I can't remember where it came from, but I love it. It seems so nostalgic and if I lived in a fantasy world, my church building would look like that, complete with glittered steeple.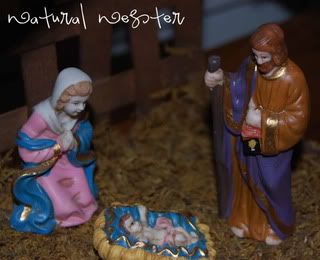 A few years ago I started collecting nativities. My collection has grown to an enormous number...THREE. I love the ones I have and hope to find one at an after-Christmas sale that's big enough to fit in the creche I bought earlier this year. Right now it dwarfs the little figurines I have, but they were a gift from my father-in-law and I love them. My mother has an ornament with a nativity inside that is gorgeousgorgeousgorgeous and I would love to find one similar to it somewhere.
The tall tree stands about 6' tall. It's a skinny alpine tree and sadly, after serving our family well for five years, this will be its last Christmas with us. It's starting to lose branches and pieces. I still love the tree though and the way it looks standing in our living room...I think Charlie Brown would be proud of it. The ornaments don't have any particular sentimental value, but I love the lime green and red. Unfortunately, so does Miss A and I'm finding candy cane ornaments all over the house, due to her Ornament Relocation plan.
We decided against buying a Baby's First Christmas stocking. What are you supposed to do with them next year? Instead, we bought a stocking for her to use every year. I love the little Snoopy head, peeking over the edge. Inspired by our good friends, I may have our names embroidered on the cuffs.
That's the end of the tour...there's one more detail I didn't include because I couldn't get a good picture. I'll try again tomorrow and post along with an Advent devotion.