From November 6 until Thanksgiving, I'll be posting everyday, talking about someone or something I'm grateful for. I invite you to participate along with me. If you have a blog and will be participating, send me the link and I'll link back here. If you don't have a blog and there is a blessing you want to talk about, email me and I'll post it along with my daily blessing. I can even post it anonymously, if you'd prefer. There's something very powerful about focusing on what's

right

in our lives, and I intend to live this way, walking on the path of gratitude.
Day Eleven:
Warmth. It is oh-so-easy to take it for granted, this being able to get and stay warm. This weekend my body decided to play hostess to a cold, a most unwelcome visitor. A cold is the type of houseguest that makes you regret turning the extra bedroom into a guestroom instead of an office; a houseguest like, well, this one: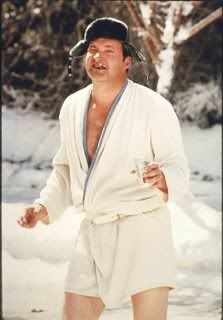 Shudder. But back to warmth. This morning, after getting Miss A tucked in for a nap, I enjoyed a long, extremely hot shower. I turned the thermostat up a few degrees and made myself a cup of hot tea. When that wasn't enough, I pulled on a sweatshirt and some socks and slippers. I sit here, warm and toasty at my computer, thinking about those who struggle to stay warm under sheets of newspaper or under bridges. I'm so grateful for everything I have in my life, but I feel my heart cry out the prayer:
Break my heart for what breaks yours, everything I am for your kingdom's cause.