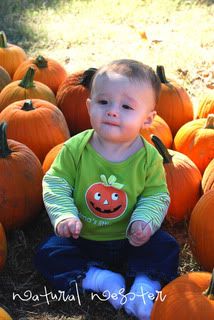 Warning: This post is primarily for family members who want to see more current photos of Miss A. If you're just interested in crafts and recipes, you might want to scroll on by. ;)
Two weeks ago, we visited our local pumpkin patch. Just a few miles south of our town, it's a nice quiet drive. You can either pick your own pumpkins from out in the field or choose from some they have up by the farmhouse. Up by the house, there's also a giant wooden pumpkin where you can take photos. We had to get some with each of us and Miss A.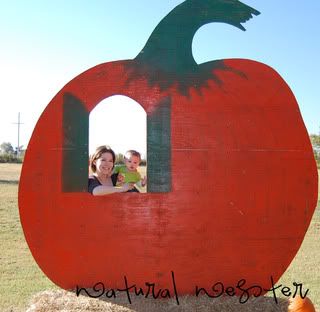 There's also a corn maze and if you have a group, you can arrange for a hayride. It's a really special place to me. Visiting this patch is one of my favorite traditions, one that we hope will become equally important to Miss A as she grows. She's only 8 months old now, so she was less than excited about it, but we managed to get some great photos of her. We also had some family photos taken by our photographer friend and can't wait to see those! What a great way to celebrate Autumn!